The Last Right writer-director Aoife Crehan has told RTÉ Entertainment that she hopes her film, which is released digitally on Monday, is seen as a "love-letter to Ireland" - and brings some much-needed feelgood to homes.
Below, she talks to Harry Guerin about making her feature debut, lessons learned, and suggests some other films people should watch right now to lift their spirits.
Harry Guerin: Have you mixed emotions about The Last Right being released for home viewing right now?
Aoife Crehan: Yes, definitely mixed emotions. It's a story about a brother repatriating his estranged brother's body, and about someone who dies with no next of kin to claim him, and it's deeply sad to think that those situations might be more common as a result of the current global crisis. But it's also about strangers helping strangers and The Last Right is primarily a story about love and community and the kindness of strangers, and that's also what's happening all over the world right now. In The Last Right death and hope go hand in hand - with hope and love winning out. It's a life-affirming film and for that reason I'm glad people can see it in their homes, as my intention with it was to create something feelgood. And we need feelgood now!
You could've made any film for your first film, so what was it about this story?
The story was inspired by a radio documentary I heard about a man in Amsterdam who buries people with no next of kin. I was really moved to think that there was a man out there who had so much love and compassion for strangers that he would do this and I wanted to make a film that elicited the same feeling of hope in the kindness of people. I get really affected by films - if I see a dark or violent film then the world feels darker to me when the credits roll. So I set out to deliberately create a film that I hope will make people feel warmth at the end towards whoever is sitting nearby or if you're on your own just to feel warm thinking of people in general. So much energy goes into making a film; I wanted the result to be an uplifting contribution to people's viewing options. And at its simplest it was a story that made me happy, and my turning point in becoming a professional writer was in realising that the only story you have any business writing is one that you yourself love. It's also sort of a love-letter to Ireland and to 90s films, both of which I love.
Now that you have a bit of distance from making The Last Right how do you look back on it all?
It's an incredible experience making a film, gruelling and inspiring. It's always amazed me how many people have to be involved to make a single film - and that seems all the more amazing given what's going on now. A feature film is the ultimate communal project, I suppose; you cannot do it alone. I still marvel at the amount of pivotal people who were involved in The Last Right - from the early script development stage with Screen Ireland; from the talented people who gave notes on the script to the producers and financiers, eOne and Screen Ireland taking a chance on me, and Northern Ireland Screen and RTÉ, to the enormous talent of the cast and crew, from pre-production to post production.
Not to mention the kindness and support of the local people in Clonakilty, Inchydoney and the entire community on Rathlin Island. Without their can-do attitude we'd have had to shoot the whole thing in Wicklow. I love Wicklow, but it's not Rathlin and its certainly not Cork, like! From a creative POV [point of view], yeah, there are things I wish I could do differently if we'd had more money and time. For example, we had a really short time shooting in the car and the van and so angles and shots were severely limited and I still dream about shots I wish we'd gotten, but I think that's part and parcel of the experience. Our constrained shooting schedule of five weeks included travelling the literal length of the country, which took a lot of goodwill on the part of everyone. Overall, looking back on the challenges we had - the entire production nearly fell apart two weeks before shooting) - and in the context of events going on right now, it feels like an effing miracle it happened at all! And I'm very glad it did, as I hope it makes people smile.
You assembled a great cast - was there any advice from one person in particular that really stood out?
I was really lucky with the huge talent and experience of the cast - each of them was supportive in their different ways. I learned something different from each of them, that's the truth. Michiel Huisman was incredibly supportive and he's been on so many more film sets than me, and he was really generous and collaborative; a joy to work with. The biggest thing I learned from Michiel was probably the importance of letting go the last scene, focus on the one you're shooting right now, and to go with the flow. I also learned a lot just from watching our youngest cast member, the immensely talented Samuel Bottomley, because he is such an instinctive actor. It was a dream to work with Brian Cox, I kept pinching myself, 'That's [Succession character] Logan-effing-Roy!' And my whole family showed up on Colm Meaney's first day on set - ha! Michael McElhatton was also really supportive and great to work with, as was Jim Norton, who was such a gentleman through and through. He is a real example of classy professionalism. I also learned a lot from Niamh Algar, who has such a raw fierce talent, definitely a movie star. And it was Eleanor O'Brien's first film and my first film so we had a baptism of fire together. I learned a lot from her honesty, both as a performer and as a person.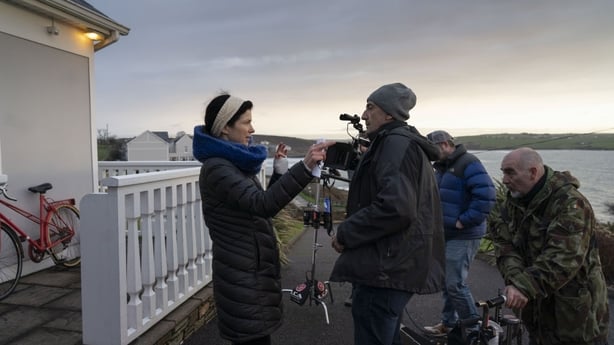 I also learned a lot from the collaborative instincts of the theatre actors we were lucky to have join us - Clare Barrett and Julie Sharkey, and Catherine Byrne and Donagh Deeney. I also learned a lot from our day players, Kevin McCormack and Aidan O'Hare in particular, from the way they threw themselves into an already gelled cast and crew with dexterity and enthusiasm. The way actors are utterly in the moment can teach everyone in any walk of life a thing or two! Catherine was very generous teaching my wee eight-year-old nephew Sam about acting – he was an extra and by the end of one day with Catherine he was telling me we needed to go for another take because he wasn't satisfied with his performance!
Do you know what your next film will be?
At the moment I'm concentrating on TV - writing. I really love writing. I've a script in development I'm really excited about. It's a musical in the vein of Once or The Commitments, about a band in Dublin in the 90s in collaboration with Snow Patrol. Gary Lightbody is the songwriting voice of the fictional lead singer in the show, and I think that's going to be a special show. Most of my projects in development are TV, a couple in the pipeline with a US studio, and one film, which is an adaptation.
How much have events of the past few weeks thrown your plans into disarray?
I was supposed to be in Moscow and Boston last week for festivals for The Last Right, and New York this week for meetings, but needless to say I didn't get past my front door. But otherwise I'm lucky in that my current projects are in the writing phase. And as a writer I pretty much self-isolate most of the time anyway! I feel for people that had to halt production as it would've taken so much to get their projects to that stage. Fingers crossed they can pick up again where they left off. I reckon this lockdown will probably produce loads of new writers!
If you were asked to put together a playlist of films to help people out over the next few weeks what films would you pick?
Little Miss Sunshine
As Good As It Gets
Silver Linings Playbook
Inside Out
Jerry Maguire
Billy Elliot
Once
and in TV - Parks and Recreation and the US Office with Steve Carrell
Because they make me laugh, they're uplifting and inspiring, they're brilliantly acted and directed, they've got great music. Ultimately, it's because they make me laugh and smile while being moving, and I think comedy is the best immune booster.