Director Marjane Satrapi has said she wanted her biopic about Marie Curie to "go beyond the great adventure" of the late two-time Nobel Prize winner.
The Iranian-born French director, who was nominated for an Academy Award for Persepolis in 2008, said she wanted Radioactive to offer new insights about the acclaimed Polish-French chemist and physicist, and to showcase not only her remarkable scientific breakthroughs, but also her personal relationships, and the effects radioactivity had on the world long after her death.
It is the fourth biopic of Curie, following on from 1943's Oscar nominated Madame Curie, the 1997 French production Les Palmes de M. Schutz and 2016's Marie Curie: The Courage of Knowledge.
Speaking to RTÉ Entertainment ahead of the movie's premiere at The Virgin Media Dublin International Film Festival (DIFF), Satrapi said she believes her latest project is "more interesting" than previous outings because it covers a wider spectrum.
"When the project came my way I didn't understand that there could be interest in another film about Marie Curie because there are so many of them from the 1940's onwards - films, TV series and documentaries.
"I think what makes Radioactive more interesting is that it goes beyond the great adventure of Marie Curie, and explores the worries she and her husband Pierre - a pioneer in crystallography, magnetism, piezoelectricity, and radioactivity - endured in their work."
"In a speech Pierre Curie gave in Stockholm in 1904, he says he knows that radium in the hands of big criminals will make for a catastrophe, but still he wants to believe in human beings, and that's what we still have to believe in," she said.
We need your consent to load this YouTube contentWe use YouTube to manage extra content that can set cookies on your device and collect data about your activity. Please review their details and accept them to load the content.Manage Preferences
Ahead of filming, Satrapi met with Curie's granddaughter, Hélène Langevin-Joliot, a nuclear physicist, who shared "lots of information".
"I met with her granddaughter, who is in her 90s and also a physicist, and she told me about a letter Marie Curie gave to her daughter in which she said "I suffer more from lack of funds than from being a woman."
"She suffered much less from being a woman than her daughter because in the beginning of the 20th century you had these ten years, like a window of freedom just before WW1, where it was becoming better, there was the women's suffrage movement in England, and then the world put women back again.
"We always have this feeling that we are advancing when it comes to women's rights, but we are not always advancing. It often feels like we are taking three steps forward and two steps backwards.
"I met her before making the film because I wanted to tell her I was making a movie about the ethics surrounding new discoveries. We had a chat for nearly two hours and she gave me lots of information."
She added: "Then we met again when the film was finished and she said she was really happy that the movie wasn't a sweet and soft portrait of Marie because she said that was not who her grandmother was."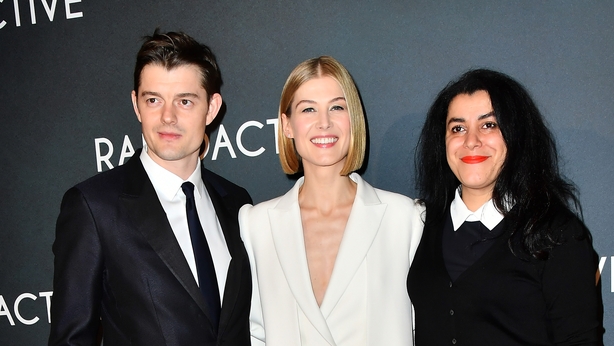 Satrapi revealed 41-year-old Rosamund Pike was perfect to play the iconic scientist as she is "super intelligent" and "fierce".
"When you see her she's super intelligent - and just like Marie - when she smiles the whole room becomes full of light," she added.
"Marie Curie is one of the most intelligent women in the world. You can't fake intelligence. If you are intelligent you can pretend you are dumb, but it doesn't work the other way.
"You have to have someone who has this intelligence in their eyes but also I needed someone that could be fierce. Rosamund had both of those qualities."
"You don't become like Marie Curie because you are soft and look like whipped cream. You need to have some kind of character, but the problem is when a woman is focused it's always more problematic than when a man is focused.
"When a man is focused he appears so attractive and nice. For women, it's like our first quality has to be our softness, yet this isn't even my No. 25 quality, that is if I consider I have qualities," she laughs.
Radioactive was scheduled for released in cinemas on March 20 but due to Covid-19 restrictions the movie went straight to movie-screening platforms.
From June 15, the movie can be viewed on iTunes, Amazon, Virgin Media and Sky, along with many more digital services.