The creator of Call The Midwife, Heidi Thomas, has said that it was not until after a "brush with death"
that she did her best work.
Thomas, 57, told Radio 4's Desert Island Discs that about a year after her son Dominic was born in the late 1990s that she developed an obstructed intestine which led to life-threatening health complications.
The playwright and screenwriter also said the thought of dying while her son was still an infant made her "shudder" for years afterwards, because it would have meant leaving husband actor Stephen McGann with a baby by himself, while she would also have died before releasing her best work.
Meet the cast of the #callthemidwife 2019 Christmas special @RadioTimes
https://t.co/UtVdPUcoh4

— Call The Midwife (@CallTheMidwife1) December 12, 2019
Speaking about her illness, she said: "Not realising what the symptoms were I sort of soldiered on at home thinking I had a touch of food poisoning, and in actual fact I developed gangrene of the bowel and sepsis.
"I had to have emergency surgery and a very large piece of my bowel was removed, and then of course I had to deal with the sepsis, so I was very, very poorly.

"It gave me a sense of how much there was to lose. My son was 14 months old at the time and for years and years afterwards I would have this sort of shudder at the idea of Steve being left alone with a baby, and the idea that certainly Dominic would never have remembered me at all." she added.
The Madame Bovary series writer added: "Not that that's the most important thing, that's an egocentric thing to say, but I look at what I've done since. I didn't even really begin my best work as a writer until I was recovering from that illness."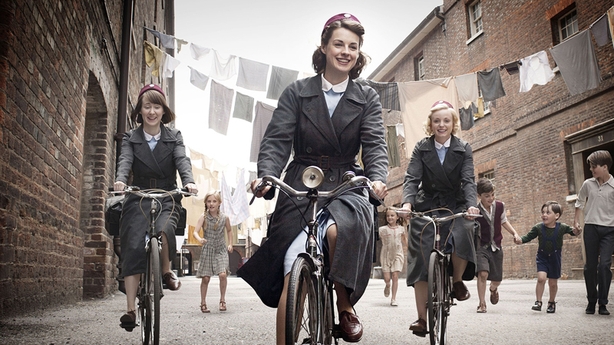 BBC period drama Call The Midwive follows nurses working in the east end of London in the late 1950s and early 1960s and has been a huge success since it debuted in 2012.
Thomas said she lives "in dread of disappointing people" with the series.
She added: "I think during difficult times in my own life I've often looked forward to a television programme.
"Last winter I was nursing my mum through her final illness and I have never looked forward to Strictly so much in my life."
Call The Midwife will return for a special episode on Christmas Day, with the ninth series starting in 2020.