Little Hours' John Doherty has said he is "terrified" and "excited" about his debut album release and that he can't wait to have people hear it for the first time.
The Donegal musician releases his first studio album, Now the Lights Have Changed, on Friday, September 20 and he spoke to RTÉ Entertainment just before release.
His headspace was mostly one of excitement at being so close to finally putting his collection of songs out into the world to be heard.
"I just can't wait to get it out; it's something I've been working towards it since I was 10 years old so I've always wanted to put out an album and I just can't wait now," he said.
His hit song Water features on the 11-track record along with some songs fans will already be familiar with, and more that are brand new. Knowing that some tracks are already well-received has done little to make him sit back and relax however.
"No, I'm terrified," he laughed. "There are so many songs people haven't heard as well, it's just excitement and waiting for people to hear it. It's the stuff nobody's heard before I'm most excited about."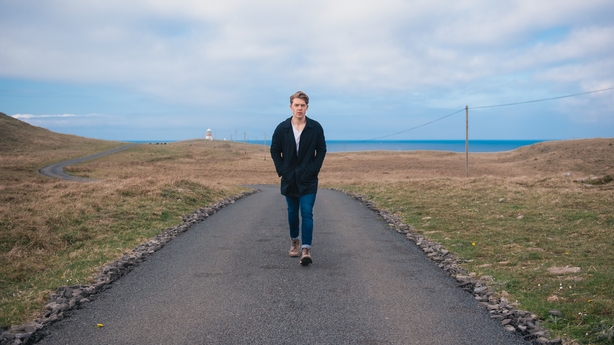 Now the Lights Have Changed has been five years in the making and when it came to choosing what would make the cut, he admitted it was tough.
"There's been songs I've had for the last few years I've always known would be on the album, then there are tracks that were written a few weeks before i went into studio," he said.
"It was tough to get it down to the final number at the end but I'm delighted with what's on it now."
Songwriting – "I haven't found a formula for writing a song yet" – is a form of therapy for the Killybegs man, and he said that knowing he will get a song out of his heartbreak or personal woes is "a good way of looking at it" even if it "keeps reminding you every time you play them."
His lyrics, he says, often make sense only to him, but when he hears a crowd singing his words back to him "it's an amazing feeling" because "a lot of the time it's only you that knows what that lyric means as well, so when you get it in somewhere that it makes sense and other people like it, that's kind of why I write songs; you get a wee buzz."
Finishing a song can be tricky though as he has a tendency to be "tweaking, tweaking, tweaking it until eventually my manager or label are like 'John this needs to stop, we need to put a full stop at the end of this there and get it finished'.
"I would still be recording it if I had the chance but it's good to have a point where it's finished."
His biggest hope for the album? That is gets heard.
"Just that everybody gets to hear it, i just want people to listen to it and to hear these tracks that i'm just so proud of," he said.