Jamie Oliver reflects on his career, there's a look at the Bauhaus movement, Naked Atrraction is back, the three-part Jade Goody doc comes to an end, and there's the story of Tower Records . . .
Pick of the Day
Jamie Oliver: the Naked Chef Bares All, 9.00pm, Channel 4
It's been 20 years since Jamie Oliver took off with The Naked Chef and gave culinary culture a radical shake-up.
Jamie has changed how people cook and eat over the last two decades, but how have the past 20 years changed him? Presented by Davina McCall, this documentary highlights memorable Jamie moments from over the years.
There's his accidental discovery at The River Café, his rise to fame as iconic Brit-pop chef, his restless campaigning to improve the food system, and the more recent closure of his restaurant group.
New or Returning Shows
Hamilton: One Shot to Broadway, 11.00pm, Sky Arts & NOW TV
Here's the story of the hit musical that changed Broadway forever and brought the genius of Lin Manuel Miranda to the attention of legions of fans across the world.
It features interviews with Miranda, as well as the cast and crew of Hamilton.
Bauhaus, 9.00pm, BBC Four
One hundred years ago, an art school opened in Germany that would change the world. It was called the Bauhaus. A century later, its radical thinking still shapes our lives today.
Bauhaus 100 recounts the definitive story of the men and women of the Bauhaus who dared to dream how art and design could radically change the modern world.
Detailing the story of Walter Gropius, architect and founder of the Bauhaus, and the teachers and students he gathered to form the influential school.
Naked Attraction, 10.00pm, Channel 4
Amazing how quickly this show has become pretty much mainstream.
The dating show that dares to bare all returns, helping sassy singletons avoid the pitfalls of fake online profiles and fancy filters by choosing their perfect partner based solely on the power of Naked Attraction.
First into the studio with presenter Anna Richardson (below) is 30-year-old Stephanie. A self-confessed dating disaster, this clumsy girl never gets past a first date. She's hoping with Naked Attraction's help she'll finally get to second base.
Afterwards you can watch The Sex Clinic at 11.05pm.
New to Download
Hyperdrive, Netflix
Elite street racers from around the world test their limits in supercharged custom cars on the biggest, baddest automotive obstacle course ever built.
American Factory, Netflix
This acclaimed documentary takes a deep dive into a post-industrial Ohio, where a Chinese billionaire opens a new factory in the husk of an abandoned General Motors plant and hires two thousand blue-collar Americans.
Early days of hope and optimism give way to setbacks as high-tech China clashes with working-class America.
Ending Tonight
Jade: the Reality Star Who Changed Britain, 9.00pm, Channel 4
After her disastrous appearance on Celebrity Big Brother in 2007, reality star Jade Goody had hit rock bottom.
With her reputation in ruins, and condemned by many as a racist, she teamed up with infamous publicist Max Clifford in an attempt to reboot her celebrity career.
But when she agreed to appear on the Indian version of Big Brother in 2008, everything was to unravel. Astonishingly, while she was live on air, Jade was told of her diagnosis for cervical cancer.
But instead of retiring from public life Jade continued to appear in the tabloids and started filming a new Living TV reality series documenting her illness and her marriage to Jack Tweed, four weeks before her death at 27.
Sacred Wonders, 9.00pm, BBC One
At the Holy Sepulchre in Jerusalem, where a miracle is believed to happen at the same place, at the same time every year, an orthodox Christian must deliver a holy flame into the hands of a bishop.
In Nepal, at Boudhanath Stupa, a Buddhist painter battles the elements to honour Buddha's birthday. And in Iraq, at Lalish, a young Yazedi woman goes in search of comfort after being traumatised by the recent conflict.
Shop Well for Less? 8.00pm, BBC One
This week Alex and Steph are in Leigh-on-Sea with the Tulino family: mother Antonietta and her three children, Ellis, Alessandro and Lucas.
Antonietta has her own holistic therapy business which she juggles with home life. Her passion for home interiors means she loves her home to look nice, and she has a growing range of throws, cushions and candles, and a collection of 11 chandeliers.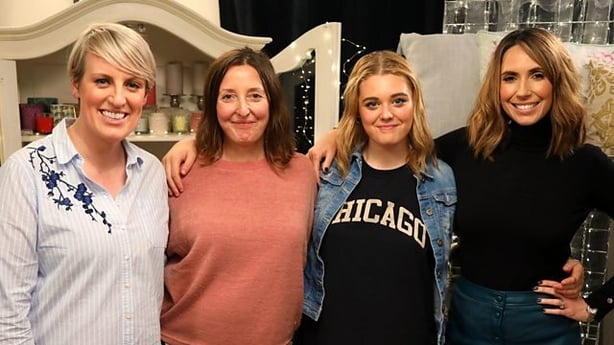 Don't Miss
All Things Must Pass: the Rise and Fall of Tower Records, 10.30pm, TG4
Colin Hanks (yep, the son of etc) examines the history of the American retail music chain Tower Records, from its origins in 1960 till its closure in 2006, as well as the legacy forged by its founder Russ Solomon.
Anyone who ever bought a vinyl record will love this.
Click here for full TV listings