PJ Gallagher swaps jokes for joists and hosts a new DIY show, ITV's landmark documentary series returns as 63 Up, Ackerly Bridge is back - and Years and Years reaches its conclusion . . .
Pick of the Day
The Big DIY Challenge, 8.30pm, RTÉ One
Hosted by PJ Gallagher, The Big DIY Challenge showcases DIY-ers from all over Ireland who simultaneously take on DIY projects.
From whole room renovations to outdoor construction projects, the show's contestants test their mettle for the chance to win the grand prize of €10,000. The competition is fierce, but only one can be crowned Ireland's Best DIY-er.
Providing tips and advice for the viewers (and a critical eye on the projects) are two judges, TU Dublin Lecturer in Construction, Jennifer Byrne, and representing Woodie's DIY, power tool aficionado Michal Dachowski.
These two will have the tough decision of choosing a winner and awarding the cash prize as well as additional prizes for Best Small Job, Best Inside Job, Best Outside Job, Best Upcycle, and of course, the Best DIY Fail.
Here's a teaser:
New or Returning Shows
63 Up, 9.00pm, Virgin Media One
ITV's landmark (and pretty amazing) documentary series began back in 1964, following a group of people drawn from different backgrounds who allowed television cameras to drop into their lives at seven-year intervals.
Led by director Michael Apted throughout the decades, this unique and acclaimed series has now reached 63 Up, allowing it to gain further illuminating insight into its original premise of asking whether or not adult lives are pre-determined by earliest influences and social class - an issue as relevant now as it was when the series started.
Across three films, 63 Up reveals more life-changing decisions, more shocking announcements and joy and tears in equal measure.
Ackley Bridge, 8.00pm, Channel 4
The award-winning school drama is back for a third run.
When Nas (Amy-Leigh Hickman) gets an interview for a place at Oxford University, she and best mate Missy (Poppy Lee Friar) hit Oxford Ackley style, but Nas soon feels out of place - she's not posh and she's not white!
It's Missy who pulls her through, but the best friends rapidly realise their lives are heading in different directions and a rift opens between them.
Today Show Special – Garda Youth Awards, 7.00pm, RTÉ One
Maura Derrane and Dáithí Ó Sé (below) get an evening slot for this special edition of The Today Show as they cover the annual Garda Youth Awards.
This event celebrates a variety of outstanding contributions carried out by young people aged between the ages of 13 and 21, either at school, through youth groups or volunteer organisations.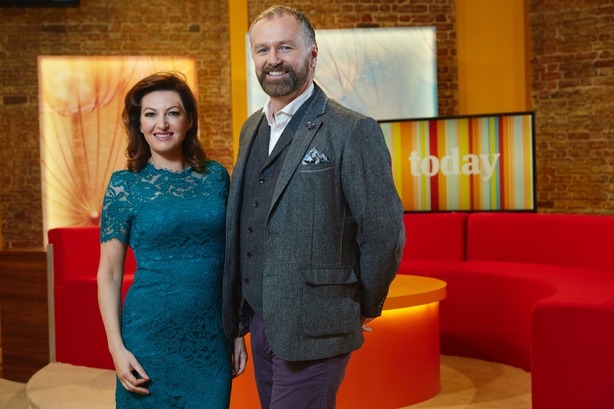 New to Download
Adam Devine: Best Time of Our Lives, Netflix
US comedian Adam Devine - great as Andy in Modern Family - knows that growing up sucks and is here to tell you why.
Filmed in front of a packed house at The Orpheum Theater in his hometown of Omaha, Nebraska, this comedy special sees Devine focus on puberty, parental judgment, and almost dying on his 21st birthday.
Didn't we all?
Ending Tonight
Years and Years, 9.00pm, BBC One
As Russell T Davies' hugely enjoyable, near-future dystopian drama comes to a close, Viv Rook's (Emma Thompson) regime tightens its grip on the UK and the entire Lyons family is forced to take action.
Spurred on by both Muriel (Anne Reid) and Daniel (Russell Tovey), Rosie (Ruth Madeley) faces up to the troops surrounding her home, and takes radical action with Lincoln's help.
But when Bethany (Lydia West) reveals the shocking truth about her father, Edith (Jessica Hynes) and Celeste (T'Nia Miller) form a secret alliance to stop him.
On a long, dark night, the challenge is clear: can one ordinary family actually change the world?
What's My Name: Muhammad Ali, 9.00pm, Sky Atlantic & NOW TV
The second part of this intimate documentary about the idolised boxer picks up on Muhammad Ali's career as he bounces back from his defeat to Joe Frazier.
Along the way he gets beaten and then beats Ken Norton, before taking on his nemesis again - and then facing into 1974's legendary Rumble in the Jungle with George Foreman in Zaire.
Don't Miss
The Good Fight, 10.35pm, RTÉ One
Season three of this superb show - well, except for the new and annoying animated segments - is just three episodes away from ending, as John Cameron Mitchell returns as alt-right provocateur Felix Staples.
He rattles the firm when he returns with a case against ChumHum - bringing along a familiar face as his representation, Alan Alda's veteran lawyer Solomon Waltzer.
Meanwhile, Christine Baranski's Diane Lockhart receives a mysterious note at home, leading hubby Kurt (Gary Cole) to wonder what she's been up to.
Click here for full TV listings