Actor Mark Strong says he relished playing arch-villain Dr. Thaddeus Sivana in new superhero movie Shazam!, adding that there is nothing remotely funny about his character despite the movie's comic tone.
Watch our full interview with Mark Strong
Speaking to RTÉ Entertainment, he said, "That was a conscious decision because we knew the movie was going to be fun and there was going to be gags and tomfoolery and we realised that we had to make Sivana the straight man to the comedy guy and, in fact, not just the straight man but we had to make him as deep and dark as possible.
"The further we took it and the scarier we made it, the more the funny guy's in jeopardy because that balance is important in this kind of good versus evil tale.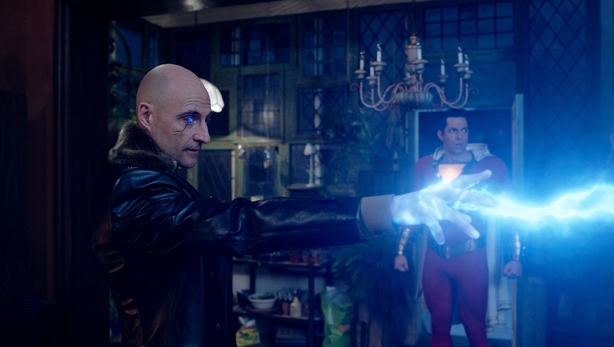 Strong continued: "There's whole boardroom sequence where he goes back to meet his father and his brother which is pretty scary, more so than you normally expect in these sort of films but I think that's really well managed because you need to have that terror otherwise there's no jeopardy."
In the movie, Asher Angel plays an orphan boy who is transformed into a fully grown superhero (Zachary Levi) after meeting a wizard.
Read our review of Shazam! here and watch interviews with leading man Zachary Levi and the movie's director and producer
Strong, who has enjoyed a thirty-year career acting on TV, the stage and in cinema, including roles in the acclaimed 1990s TV drama Our Friends in the North and the Kingsman movie series, says he enjoys keeping his foot in all areas of acting.
However, he acknowledges complaints that there may be too many superhero movies. "Yeah. You wonder if there are too many been made but the figures don't bear that out," he said.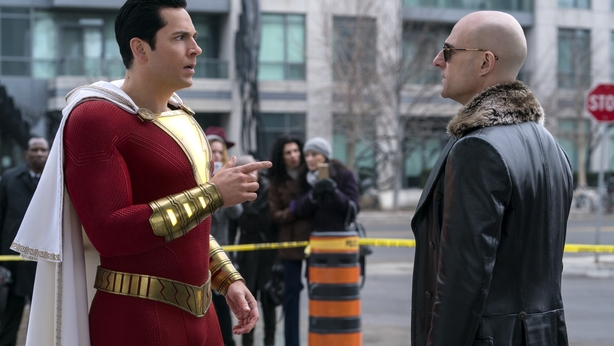 "The truth is that they still make enormous amounts of money and millions and millions of people see them and they eagerly await the next one so I think on the one hand critics or people in the industry worry about it but it doesn't seem to be affecting the populace at all."
As for the future of Shazam and Dr, Sivana, Strong is open-minded. "I don't know yet but I'd be very surprised if they didn't use Zach and Shazam in the Justice League," he said.
"Imagine having a 14-year-old boy bumbling around amongst all those other superheroes? There's a gag in there that immediately makes the whole thing funnier than it would probably normally be. He's getting in the way of Superman and Batman all the time. That would be quite fun."
Shazam! is in cinemas on April 5th
Click here for more movie news, reviews and interviews.