Dancing with the Stars judge Julian Benson shared his story of living with cystic fibrosis on Friday's Late Late Show, telling host Ryan Tubridy: "I have CF, but CF doesn't have me."
In a moving interview, the entertainer recounted how he had been diagnosed with cystic fibrosis at two years of age, having spent a year in Temple Street Children's Hospital.
"Cystic fibrosis is like a genetic, inherited disease," he explained. "Essentially, it affects the lungs and the pancreatic system. It builds up mucus so where you're getting constant chest infections. So, you've got to mind yourself and, again, it's all about you have to be on a regime, a permanent regime of antibiotics and medication to keep you as well as you can [be]."
We need your consent to load this rte-player contentWe use rte-player to manage extra content that can set cookies on your device and collect data about your activity. Please review their details and accept them to load the content.Manage Preferences

Benson paid tribute to the impact his late mother had on his health and outlook.
"My mum was amazing; I had this amazing, amazing mother," he said. "We took it by the hands. We said, 'Ok, he has cystic fibrosis. We'll get out there'.
"I didn't realise until latter years that there was anything really, really wrong with me. This was the most amazing thing."
"It doesn't define who I am," Benson stressed. "I really mean that and I put that down to my mum, because I was encouraged to do everything I wanted to do. I wanted to dance. I was always dressing up, listening to music, watching Fred Astaire and Ginger Rogers movies. Music was my medicine.
"I am here today - sitting with you alive and fresh and, you know, feeling happy and wonderful to be here - because of my mum. Because she looked after me. She didn't mollycoddle me, but she encouraged me. She supported me. She was there for myself and my brother. She looked after us both and got us here."
When asked why he had decided to share his story at this point, Benson replied: "I always said to myself in my life, Ryan, [that] if I ever got to a stage in my life that I had a platform, and I got to a successful point that I could maybe share my story to help other people believe in themselves - to just go for their goals and their dreams - then I would share it. Because CF was part of me; it doesn't define who I was."
"I could maybe share my story to help other people believe in themselves, to just go for their goals and dreams" #DWTSIrl's @judgejulesoffic on why he has decided to speak publicly about having Cystic Fibrosis #latelate pic.twitter.com/5YCwrpeTR6

— The Late Late Show (@RTELateLateShow) March 23, 2018
"I've kept myself on A-game fitness all my life," he added. "The dancing was my medicine, dancing was my life. And through that... Because with CF you've got to keep your lungs going, your body going. And it's like [that] really for everybody: we're an engine - we've got to keep ourselves going."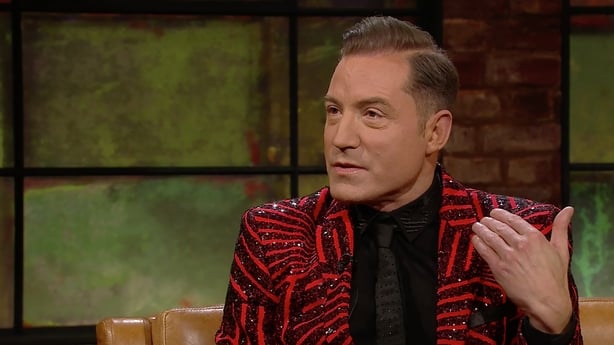 Looking to the future, Benson said he hopes to "set up a charity and an organisation and a foundation".
"It's about giving back," he said. "I want to help kids. I want to help raise funds for CF.
"Ideally, my goal is to build, like, a respite home for parents and family and friends of people in hospital because there's nowhere for them really to go when the people are sick. And a lot of people with CF are in hospital for a long time, could be in for many, many months.
"So I want to do that - put holistic treatments into hospitals as well because people are in for long-term care. I just want to try and do good and give back and help.
"Because I have a platform now - God has been good to me - and this was the time to talk about it and share. But be positive."
"Believe in your dreams, you can achieve your dreams," Benson concluded. "No matter how tough life gets, keep hope, follow the light and you will achieve. I'm still doing it, I'm still kicking. As Elton John said, 'I'm still standing!'
"I've a lot more to do. I'm dancing on Sunday, I'm going to bring it. And so, this is me."
Watch the interview in full on the RTÉ Player here.
The Dancing with the Stars final is on RTÉ One on Sunday at 6:30pm.