Dancing with the Stars contestant Anna Geary has said receiving a perfect score from the judges last week is like a "double-edged sword" as everyone will be watching out to see what she does on Sunday evening.
Anna and her partner Kai Widdrington danced a Charleston last week, with the pair receiving 10 points from each of the three judges; the first perfect score of any couple this season.
"It wasn't even on my radar to get a score like that; I was just really excited to do the Charleston to be honest because it was one of the dances that I said at the start that I wanted the opportunity to do," Anna told RTÉ Entertainment.
"I was hoping for high scores, but 10s weren't really on my radar, I was delighted to get them but now it's a double-edged sword because eyes are on me now to see what I can produce this week."
As a camogie player, Anna's competitive instinct is coming out in the competition but she said it is not directed at her fellow contestants, it's a "me Vs me" mentality.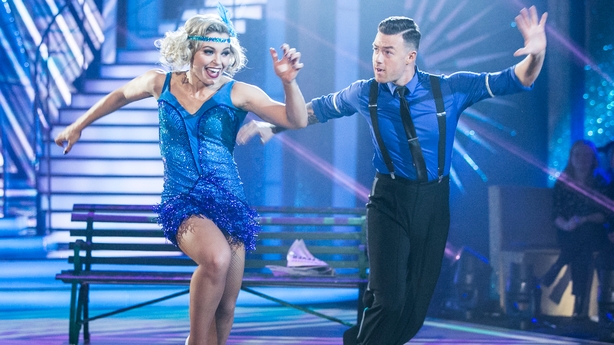 "One of the challenges for me is that I'm used to playing against an opposition where my mindset is that they are stopping me from being successful. Whereas with this, you get out on the dance floor and nobody is stopping you from achieving anything, except yourself," she said.
"So that's something I struggle with; that it's me Vs me, and so from that aspect there's always competition."
Going into Sunday evening's guilty pleasures night, Anna said there will be a "a lot of technical aspects" to her routine and that she hopes that the audience will see that she "that you're giving it you're all".
Dancing with the Stars continues on RTÉ One at 6.30pm on Sunday.