Imelda May has said she's a huge fan of U2's new album Songs of Experience.
The Dublin singer-songwriter opened up to RTÉ Entertainment about the Irish music she's been listening to over the past year and the band's latest release is right up there.
"I love it! I think it's the perfect album that they could have brought out," she said.
"It's so much fun and it's uplifting. They do what they do best on this and I think it's going to go down so well in all the stadiums, everyone will be singing like crazy."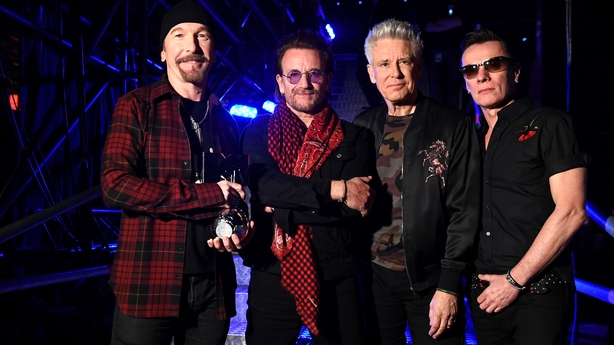 The singer, who released her fifth album Life Love Flesh Blood in April, has been listening to a wide range of Irish acts this year.
"I'm listening to Damien Dempsey, always. I'm a big fan of his", she said. "The Strypes, I love them. Beoga.
"Sorcha Richardson, she's fab. I had her on tour with me. I Google people online and I thought she was amazing and I was chasing her to come with me!"
May has had an extremely busy year touring her new album. She returned to the Royal Albert Hall in London last month, which was a particularly special experience for her.
"I love the Royal Albert Hall, I played in it many times, I opened up for Jools Holland there, I sang with Jeff Beck and Dave Gilmour there once which was a fabulous experience and then I sold out my own show when I was pregnant with my daughter.
"But this one was very special to me I think out of all of them, because it the first time I did it with this album so it meant more in a way. I was really pleased that it went so well. I asked Damien Dempsey to jump up and do a song with me, he did Big Love."
Rolling Stones legend Ronnie Wood and Irish rock star Bob Geldof also joined her onstage.
"Ronnie [Wood], I played with him, bizarrely, when I was 16. He jumped up and played with me on stage when I was in Bruxelles, we jammed, and then we reconnected a little while ago. I was delighted when he said he would turn up and Bob [Geldof] as well and it felt like a magic moment.
"The three of us were really rocking it out."
Is there anyone else she'd like to collaborate with in the future?
"Blake Mills I'm a massive fan of his, he's a brilliant songwriter, he's a brilliant singer, he's a brilliant guitarist, he's a brilliant producer, so those are all capacities I'd like to work with him. He's a total genius.
"Patti Smith I would love to do something with, I've loved her for a long time and I think she's such an important figure, for women especially in music. I read her books and poetry, she's so dedicated to art it inspires me."
After such an action-packed year, May is looking forward to the Christmas break. "I'm looking forward to a rest but I don't think I'll get one!" May said. "I have a crazy five-year-old so who knows?
"I think it'll be going to see Santy, probably Funderland, moving crib all them things, it won't be restful but it'll be fun, it'll be great."