After last night's revelations, Dan is determined to flee Carrigstown, but not before Robbie catches up with him and attacks him.
***Spoiler Alert***
Last night on Fair City, Dan finally confessed to Karen that he raped her mum Aoife. And, after the truth came out, Carol knew the only way to keep Robbie from killing Dan was to lock him inside the office.
However, on tonight's episode, Carol agrees to let Robbie out if he promises not to go after Dan. Of course, as soon as he sees how upset Karen is, that promise goes out the window.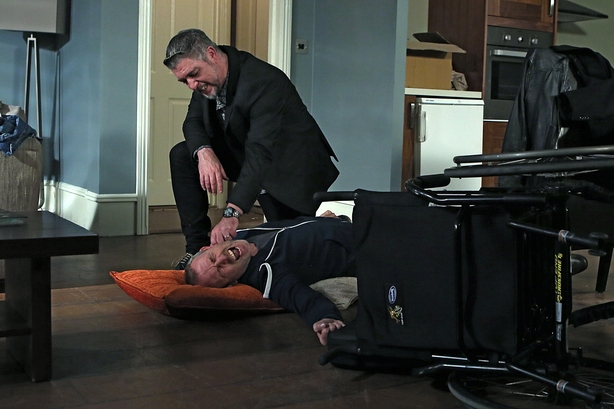 Carol meanwhile tells Aoife that Robbie knows about the rape. They go in search of Robbie and when they eventually find him he is in the midst of attacking Dan.
As Dan tries to fight Robbie off him, Aoife, Carol and Cristiano arrive and try to break them up. Carol feels betrayed by Robbie for going after Dan while Dan, overcome with guilt, declares that he is going to hand himself in to the Guards.
Take a sneak peek below . . .
Speaking about tonight's violent scenes Steve Gunn who plays Dan said: "Tensions have been simmering for quite some time now between Dan and Robbie and in tonight's episode it hits boiling point.
"On Carol's advice Dan has decided to leave town but little does he know that Robbie is on his way over to confront him about raping Aoife. When Robbie finds Dan packing to leave Carrigstown he hits the roof and physically attacks him.
"During the altercation Dan winds up being pulled out of his wheelchair and down onto the floor as he tries to fight Robbie off.
"Karl Shiels who plays Robbie is a great actor and we have a genuine friendship off screen so we had to put that to one side on the day of filming. It looks like things will never be the same again between Dan and Robbie."
Don't miss all the action on Fair City on RTÉ One at 8pm. You can also catch up on the RTÉ Player