The post-Vincent Browne period begins on TV3, new RTÉ One show Frock Finders does exactly what it says on the tin, and the Champions League is back
Pick of the day
Frock Finders, 8.30pm, RTÉ One
This new series goes behind the scenes of boutiques all over Ireland to capture the challenges of buying and selling the perfect dress for pivotal moments in people's lives.
First up, Katherine Lynch searches for a selection of dresses for a Cote D'Azur photo-shoot; two fashionistas get fitted for Ladies Day at Killarney; designers Charlotte and Jane create a bespoke suit for a top barrister; Kara Maher embarks on an overhaul of her Frock 'n Fabulous boutique.
New tonight
The Tonight Show, 11.00pm, TV3
The retirement of Vincent Browne left a major hole in TV3's current affairs coverage as his weeknight discussion programme was essential viewing for those hardwired for news.
But the post-VB period begins tonight as Matt Cooper and Ivan Yates co-host this new show, which goes out at the same time from Tuesday to Thursday.
The promise is that they'll be tacking all the big issues across the political, sporting and cultural divides, discussing the stories with expert panellists and special guests. And even have a few laughs along the way.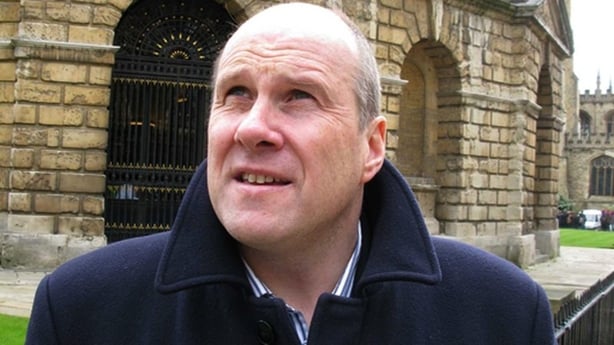 Live UEFA Champions League, 7.30pm, TV3/Champions League Goals Show, 7.30pm, BT Sport 1
The group stages of the Champions League start up again, with England's Manchester United at home to Swiss side Basel live on TV3.
But the only way to watch everything unfold on the night is with Champions League Goals Show on BT Sport 1, where coverage constantly moves around from game to game, depending on the action, capturing every moment of note on the night.
Alternatively you can watch any one of tonight's eight games live across the BT Sport platform.
Murder in the First, 9.00pm, FOX
Taye Diggs and Kathleen Robinson are back as homicide inspectors Terry English and Hildy Mulligan for a third and final season of this so-so police procedural.
The pair investigate when an all-star American football quarterback gets murdered while he's out for the night at a packed club with his girlfriend.
NFL This Week, 11.15pm, BBC Two
The new NFL season is up and running, so here's a look back on the opening week's action.
Horizon: Mars – A Traveller's Guide, 9.00pm, BBC Two
The dream of sending humans to Mars is closer than ever before and many scientists believe that the first person to set foot on the Red Planet is already alive.
Horizon has gathered the world's leading experts on Mars and asked them: where would they go, if they got the chance - and what would they need to survive?
Using real images and data, the show brings Martian landmarks to life, from vast plains to towering volcanoes and from deep valleys to hidden underground caverns.
Ending tonight
Married to a Celebrity: The Survival Guide, 10.20pm, Channel 4
In the final episode, Gogglebox's Steph and Dom, Ore Oduba, Christopher Biggins, Chris Ramsey and their other halves write a list of things their partners do that drive them up the wall before coming together to air their grievances for the very first time.
New to Download
Goldstone, Sky Cinema on demand and Sky Cinema Premiere
Aaron Pedersen is back as indigenous detective Jay Swan, now a bedraggled, boozed-up mess who arrives in a frontier mining town looking for a missing Chinese woman.
He's quickly met by the mayor (Jacki Weaver) who warns him against asking too many questions and a cop (Alex Russell) who could well be on the take.
Further digging reveals a grim picture of corruption and greed, with the local Aboriginal land council and lucrative mining-expansion project front and centre.
Jeff Dunham: Relative Disaster (From Today, 12 September )
Ventriloquist and global comedy superstar Jeff Dunham brings his rude and slightly demented posse of dummies to Ireland for a gleeful skewering of family and politics in his debut Netflix special. Filmed at the Bord Gáis Energy Theatre in Dublin, Dunham treats the audience to his famous cohorts Walter, Achmed the Dead Terrorist, Bubba J, Peanut and Seamus.
Heroin(e) (12 September)
This documentary focuses on the once bustling industrial town, Huntington, West Virginia that has become the epicentre of America's modern opioid epidemic, with an overdose rate ten times the US average.
West Virginia native Sheldon highlights three women working to change the town's narrative and break the devastating cycle of drug abuse, one person at a time.
Don't Miss
Doctor Foster, 9.00pm, BBC One
Any fears that fans might have had about running after a superb first season that seemed to leave things done and dusted proved unfounded with last week's return.
Suranne Jones is delightfully OTT in the lead role of Gemma Foster, and she's now angrier than ever and dead nuts to level the score with her ex-husband as he's returned to town with his new wife in tow, and expecting all to be forgiven.
This week Gemma attempts to fight back after the fallout from Simon's return. Reeling from the repercussions, she scrambles to uncover his secrets and find out what is going on with their son Tom.