The Irish sense of humour is a unique thing and while we've consistently produced some of the world's best male stand up comics, lately the ladies have begun making waves.
Ahead of St. Patrick's Day we're celebrating the Irish women that are on the top of their game and consistently make us laugh out loud.
Sharon Horgan
Sharon Horgan has brought her quintessential Irish humour global with her hugely successful comedy Catastrophe, and most recently with her Sarah Jessica-Parker-starring Divorce.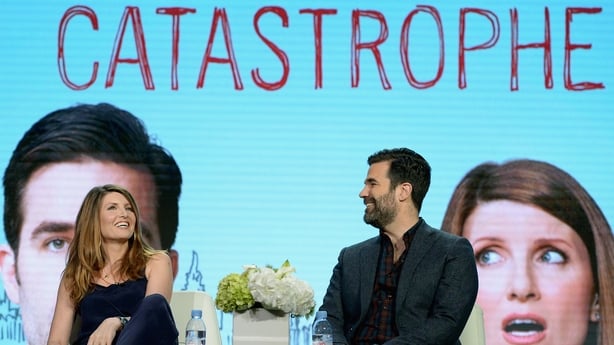 Sharon doesn't only make us laugh with her sharp tongue but with her blunt treatment of life's every day moments that have never been so hilarious until accompanied by some of her witty one-liners.
Not only can Sharon write the stuff that will have you laughing so much you miss the next thing that's said, she also delivers with a brilliant deadpan and how she can get through some of her lines with a straight face is a wonder.
Among her awards and recognition, Sharon has been nominated for an Emmy for her comedy writing and she even won over the late, great Carrie Fisher who played her mother-in-law on screen. Sharon penned a beautiful tribute to the star which you can read here.
Joanne McNally
Irish comedian and rising star Joanne McNally had big boots to fill when she stepped into Jennifer Zamparelli's (née Maguire) stilettos as the new Republic of Telly co-host just under two years ago, but the Killiney native instantaneously won us over with her down-to-earth persona and effortlessly cool banter-ish ways.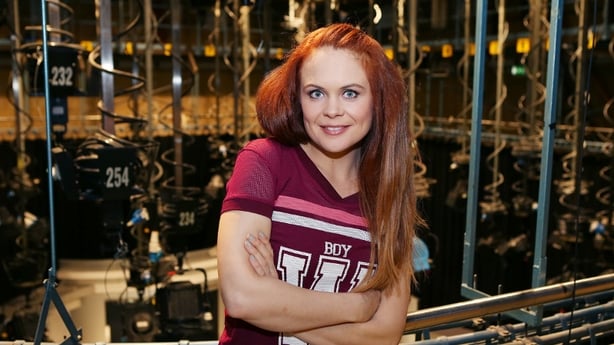 From her hilarious tweets that will leave your sides aching from laughter to her incredible gift of making you leave one of her stand-up shows with a smile that lasts for days, Joanne's charisma and positivity is infectious.
Every Irish woman who's ever looked twice at a fiddle is getting accused of ridin' #EdSheeran #galwaygirl

— Joanne McNally (@jomcnally) March 7, 2017
If I ever quit my @stellarmagazine column, I want the same passive aggressive send off from @vickinotaro pic.twitter.com/5ikAdQnqkl

— Joanne McNally (@jomcnally) March 9, 2017
But it's not all just laughs with Joanne and that's what makes her the real deal. In the past she has opened up about her harrowing battle with bulimia with her frankness and honesty encouraging both women and men with similar experiences to share their stories.
Another search of her name brings up her thoughts on Tinder with her candidly sharing stories of the people she's dated, flirted with and ran for the hills from. You see, she's just like the rest of us!
There's no denying that Joanne's career is only getting started and we look forward to following her journey....and maybe one day have a natter with her over a cup of tae.
Doireann Garrihy
The lovely Doireann has been spotted in the audience of Dancing with the Stars in recent weeks rooting for her older sister Aoibhin, who is a frontrunner to win the show. It's fair to say the talent and gene pool is strong in the Garrihy household.
Doireann filtered her way into our newsfeeds late last year with her highly amusing skits and impressions of Ireland's leading bloggers.
The entertainment reporter for Ireland AM and Spin 103.8 has gotten our favourite bloggers down to a T with her imitations of Pippa O'Connor, Suzanne Jackson and James Kavanagh proving to be freakishly realistic.
To top it all off, Doireann's fashion is always on point with her creative flair making her a one to watch on the red carpet.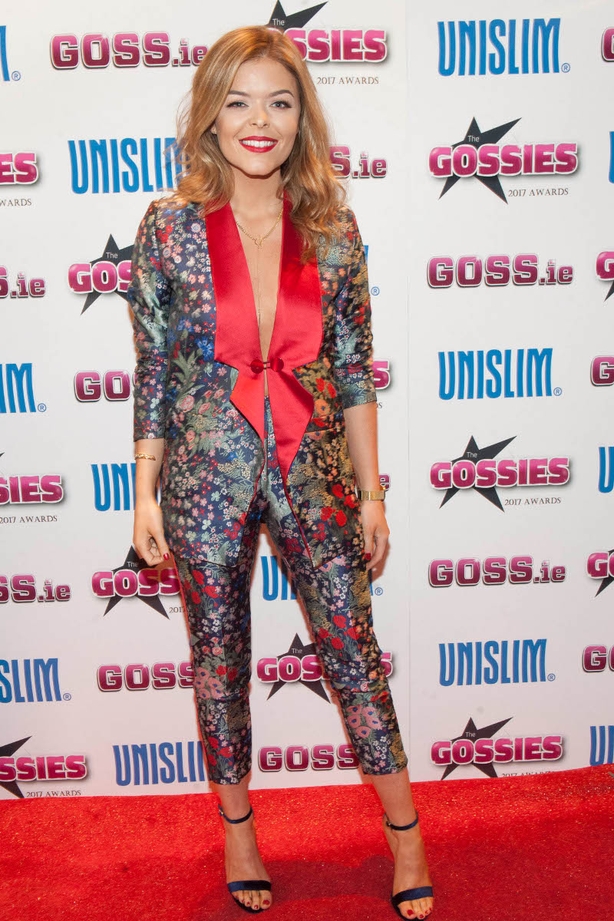 With an ever-expanding fanbase and thousands of likes and shares accumulating just minutes after she posts a video, it seems like she isn't the only Garrihy sister who can't put a foot out of place. Watch this space!
Amy Huberman
Where do we start with Amy Huberman? She's hilarious, stylish, an actress, a businesswoman, a great mum, half of Ireland's favourite celebrity couple - the list goes on.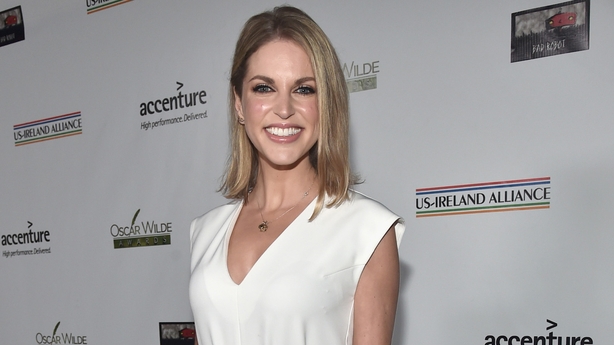 The main thing we love about Amy is that she doesn't take herself too seriously and beyond her glam exterior, deep down we can't help but feel like she's just like us.
Her Twitter is a goldmine of self-effacing comedy gold and she is the master of a good pun and dad joke.
Whenever I hear people say they're off to do coffee runs I think Woah too much information there! And if it doesn't suit you don't drink it.

— Amy Huberman (@amyhuberman) February 17, 2017
Just drove in LA without a sat nav & I didn't scream/cry once. I feel like I deserve something small like an honorary degree or something

— Amy Huberman (@amyhuberman) February 15, 2017
In the same way I hear the sea when I hold a shell up to my ear, I hear my name whispered when I hold up an almond croissant

— Amy Huberman (@amyhuberman) February 3, 2017
Nothing to see here. Just a couple of adults being very mature. pic.twitter.com/3sVEozynpJ

— Amy Huberman (@amyhuberman) December 20, 2016
Married to one of Ireland's biggest rugby legends Brian O'Driscoll, Amy never shies away from slagging him on her social media either and we just imagine them loling away constantly at home, being perfect and loving life. We're not jealous at all.
@BrianODriscoll Hi BOD, big fan. Come here WHERE did you get this amazing cape? They are so in for AW2014 #ontrend pic.twitter.com/xGRz21MAMw

— Amy Huberman (@amyhuberman) December 10, 2014
Happy birthday to my old, retired husband
#👴

— Amy Huberman (@amyhuberman) January 21, 2015
When they comment on Brian's "soft hands" I'm just glad my expensive moisturiser is paying off.

— Amy Huberman (@amyhuberman) February 2, 2013
Alison Spittle
The midlands have never been such a rich mine for comedy before Alison Spittle came along. The comedian took her first stab at stand-up comedy "like someone would try abseiling, just for the hell of it" about six years ago, and since then her career has gone from strength to strength.
In one of our favourite sketches, the Westmeath comedian shone her irreverent brand of humour on midlands life with her 'Guide to Mullingar' on the Republic of Telly, filled with some gems like "Mullingar is a mecca for pound shops and discount stores", "how can a bully wear an animal hat and a cardigan" and "the best hospitality you can get in the world is at a midlands funeral".
Her new comedy Nowhere Fast is currently in production and we already can't wait to see it on air on RTÉ2 this autumn. She stars as Angela, a young woman who returns home to the midlands after a disastrous attempt at a media career in Dublin. We've never wished away the summer so fast.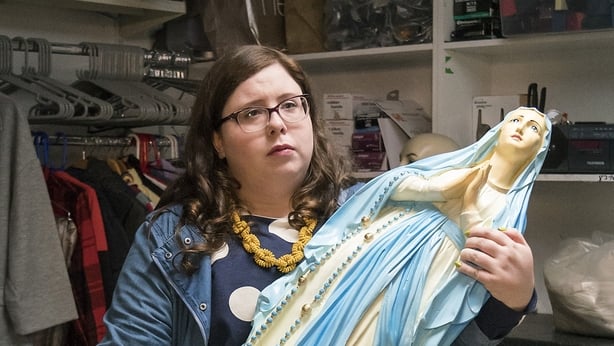 Alison also isn't afraid to delve into more serious issues such as mental health in her comedy. In her solo stand-up show Alison Spittle Discovers Hawaii she drew inspiration from her own experiences with mental illness and mental breakdown. She performed it at the Edinburgh Fringe and Dublin Fringe Festival where it was nominated for the Little Gem award for the best show less than an hour long and the First Fortnight award for fighting the stigma against mental health. Well deserved.
As well as being funny on telly and on stage, Alison is also hilarious on Twitter. Well worth a follow.
I'm eating a breakfast roll while wearing spanx. It feels like a civil war down there.

— Alison Spittle (@AlisonSpittle) February 27, 2017
Listening to filthy Prince songs on the dart. I keep fearing a flash orgy.

— Alison Spittle (@AlisonSpittle) February 15, 2017
Eleanor Tiernan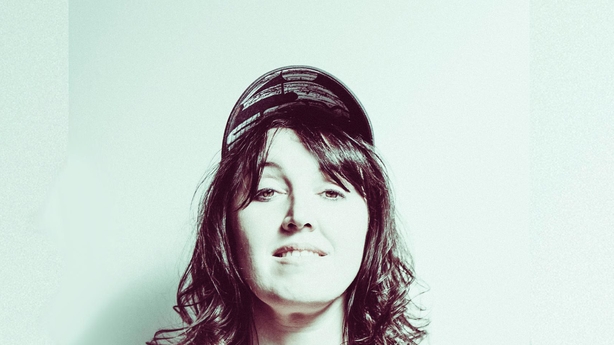 Stand-up circuit regular Eleanor Tiernan ditched a sensible career in engineering to pursue comedy and boy are we glad she did.
Nothing is off bounds for the comedian, who tackles modern day Ireland's shortcomings and insecurities in her hilarious piece We Need to Talk About Ireland. All together now..."It's not your fault!"
If you're going to watch just one of Eleanor's hilarious videos, make it the one below. Her deadpan performance as court reporter Ursula McCarthy for the spoof RTÉ show Irish Pictorial Weekly is spot-on, and as an added layer of hilarity, it went viral on the internet afterwards as many people thought it was real. Priceless!