Ruth Negga's career continues to blossom in the States with the Limerick-raised actress landing the cover of January's US Vogue.
The 34-year-old Ethiopian-born actress who grew up in Ireland, donned an Alexander Wang floral-print crop top and Rodarte ear cuff for the front cover, which was shot by renowned photographer Mario Testino.
Ruth Negga stars on the cover of our January issue! Read the full cover story: https://t.co/DZrisYDl65 pic.twitter.com/Eu5pbFtGc1

— Vogue Magazine (@voguemagazine) December 7, 2016
The former Love/Hate actress, who is hotly tipped to win an Oscar early next year thanks to her leading role in historical drama Loving, told the fashion bible about her influences from studying in Trinity College's Samuel Beckett Centre, and her identity as an Irish-Ethiopian.
"I'm very careful to say I'm Irish-Ethiopian because I feel Ethiopian and I look Ethiopian and I am Ethiopian. But there are 81 languages in Ethiopia, and I don't know any of them.
"I become very territorial about my identity because it's been hijacked by so many people, with their own projections.
Negga also invited the iconic fashion magazine staff around the pub for a few pints of the black stuff. Sure it would be rude not to.
We need your consent to load this YouTube contentWe use YouTube to manage extra content that can set cookies on your device and collect data about your activity. Please review their details and accept them to load the content.Manage Preferences
Negga, who will tomorrow night be Ryan Tubridy's guest on The Late Late Show, recently said she drew on her deep connection to Ireland to identify with her character in Loving, which tells the true story of an illegal inter-racial marriage in the US state of Virginia in the 1950s.
Richard Loving (Joel Edgerton) and Mildred Jeter (Negga) eloped to Washington DC in 1958 but on their return home to Virginia they were arrested and were sentenced to a year in prison. Their case eventually reached the US Supreme Court, which overturned their conviction.
Speaking about how she identified with her character, Negga told Vogue, "Virginia isn't that different from Ireland.
"Land and home and community are super important. When I was playing her, I tried to imagine I couldn't go home again because of whom I married. It must have drained the lifeblood from her."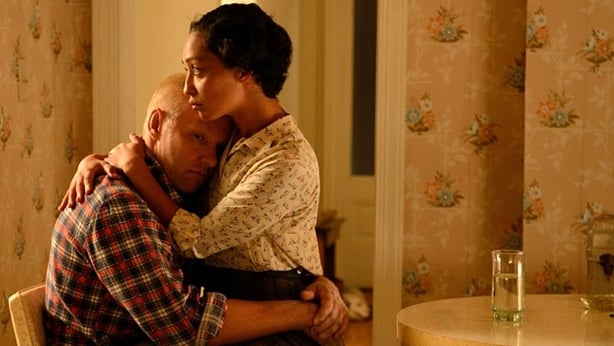 She went on to discuss her first encounter with racism saying she didn't experience it until she moved to London.
"When I was a kid in Ireland, there were not very many black people. I was very much like the strange brown thing, intriguing and cute," she said. "I didn't experience racism there. The first time I did was in London. It was that moment that you realize you're black. A kind of lifting of the veil."
Negga was the first person director Jeff Nichols auditioned for the role and he revealed that he thought she was too petite when he first met her, but her acting abilities soon changed his mind.
"She spoke in Mildred's voice. She held her mouth like Mildred," he said. "I wasn't looking for star power. I was looking for great actors."
Loving is released in Irish cinemas in February 2017.
We need your consent to load this YouTube contentWe use YouTube to manage extra content that can set cookies on your device and collect data about your activity. Please review their details and accept them to load the content.Manage Preferences