Here's the low-down on which of this week's new releases are worth the ticket price. There's The Accountant, starring Ben Affleck and Anna Kendrick; The Light Between Oceans with Michael Fassbender and Alicia Vikander; Nocturnal Animals, which stars Amy Adams and Jake Gyllenhaal; and A Street Cat Named Bob, with, well Bob and various others.
The Accountant ***1/2
Director: Gavin O'Connor
Starring: Ben Affleck, Anna Kendrick, JK Simmons, Jon Bernthal
This is a right old curate's egg, so it is. But if you're entertained by chase movies sprinkled with mystery, where there's a high body count and you're not one for detail, this could be popcorn and fizzy drink heaven.
Another big plus in this tale of a dodgy - and clearly autistic - accountant who's more than handy with a weapon is that the cast is hugely impressive, which perhaps gives The Accountant more pre-screening weight than it deserves.
Ben Affleck leads the charge in the titular role of Christian Wolff, a mathematical genius with serious sociopathic tendencies. Behind the cover of a small-town office, he works as a freelance accountant for some of the world's most dangerous criminal organisations. Read John Byrne's full review here.
The Light Between Oceans ***1/2
Director: Derek Cianfrance
Starring: Michael Fassbender, Alicia Vikander, Rachel Wiesz.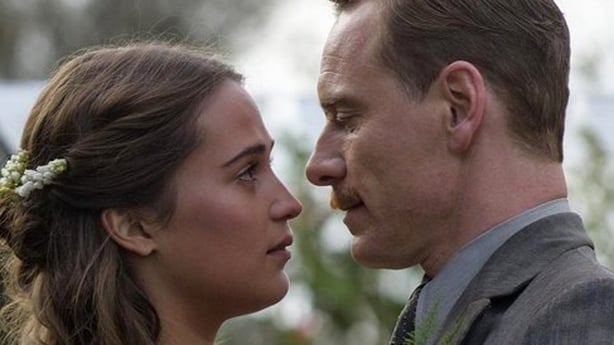 Michael Fassbender and Alicia Vikander in The Light Between Oceans
In The Light Between Oceans, Michael Fassbender plays Tom Sherbourne, haunted by his the First World War experiences and now back in civilian life. The war has just ended as the movie begins in 1918 in a pretty but remote corner of the Western Australian coast. In search of paid employment at a time when the job market is saturated with unemployed men, he signs on, with some trepidation, to man a remote light-house at sea for a six-month period.
He will be on his own, but being on his own, as he tells his employers may just be what he needs at this time. Meanwhile, it's love at first sight when he claps eyes on Isabel (Alicia Vikander) who is the daughter of a local school-teacher. The pair marry in time and settle at the lighthouse station, some miles out at sea, a posting which comes with its own adjacent living quarters. Isabel and Tom will shortly be faced with a serious moral dilemma which will sorely test both. Read Paddy Kehoe's full review here.
Nocturnal Animals ***1/2
Director: Tom Ford
Starring: Amy Adams, Jake Gyllenhaal, Michael Shannon, Aaron Taylor-Johnson
We were only down in Texas in September for what turned out to be one of the films of the year, David Mackenzie's cat-and-mouse classic Hell or High Water, and now we're back in the Lone Star State for fashion icon-turned-filmmaker Tom Ford's much-hyped story-within-a-story of relationships and revenge. Those narrative notions ultimately prove to be Nocturnal Animals' undoing, but from performances to tension, it has its moments.
Amy Adams plays gallery owner Susan Morrow, living in the gilded cage with her marriage to bouffanted businessman Hutton (Armie Hammer) on the slide. After the opening of her latest exhibition, Susan receives a book through the door. It's called Nocturnal Animals, is written by her ex-husband Edward (Jake Gyllenhaal) and is dedicated to her. Alone for the weekend, Susan starts to read and finds herself at the crossroads in her life as fact and fiction, past and present collide between the pages. Read Harry Guerin's full review here.
A Street Cat Named Bob ***
Director: Roger Spottiswoode
Starring: Luke Treadaway, Ruta Gedmintas, Joanne Froggatt, Anthony Head, Bob
Making a film about the redemptive relationship between one man and his cat was never going to be easy, but this heart-warming tale hits some purrfectly poignant notes (sorry).
When James Bowen released his autobiographical book A Street Cat Named Bob in 2012 it became an instant bestseller, and fans of the story are sure to lap up this movie adaptation.
Luke Treadaway stars as James, a young homeless man and a recovering heroin addict, who just about manages to survive on the streets of London by busking. Read Sarah McIntyre's full review here.
Click here for RTÉ Entertainment's movie pages for reviews, interviews and news.