Well that didn't take long! As the world slowly comes to terms with the news that Taylor Swift has quickly moved on from her break-up with Calvin Harris and found comfort in the arms of Tom Hiddleston, Irish people have wasted no time in seeing the relationship as a perfect opportunity to celebrate our favourite potato based snack.
Say hello to celebrity TayTo! The nickname is just too perfect. Think of the marketing possibilities (extra cheese anyone?). Naturally the internet has been quickly on the case.
I liked Twiddle. But Tayto is TRANSCENDANT!!!!!

— Marian Keyes (@MarianKeyes) June 16, 2016
Come on guys, there's only 1 couples name for Taylor Swift and Tom Hiddlesdon: #tayto #taylorswift13 #twhiddleston pic.twitter.com/p3UAiZu15B

— Neil West (@totallyneilwest) June 16, 2016
So am I the millionth to decide that the Swift/Hiddlestone romance should be nicknamed "Tayto"? A showmance and a snack.

— Louise Hector (@louisehector) June 16, 2016
I'm liking that there's a growing Twitter consensus the Taylor Swift + Tom Hiddleston power couple should be referred to as "TayTo".

— Damian Counsell (@DamCou) June 16, 2016
It turns out that Taylor Swift + Tom Hiddleston romance is a gimmick for the new snack. TayTo a crunchy touchy ..LOL pic.twitter.com/hfdBWzggqO

— PicturePlay (@picture_play) June 16, 2016
However, it seems that Mr Tayto himself was well ahead of the curve. His employers at Largo Foods wrote to Swift on his behalf when she visited Ireland last year to play the 3Arena, pointing out the similarities in their respective monikers and also sent along a box of his famous snacks (hey! never waste a marketing opportunity).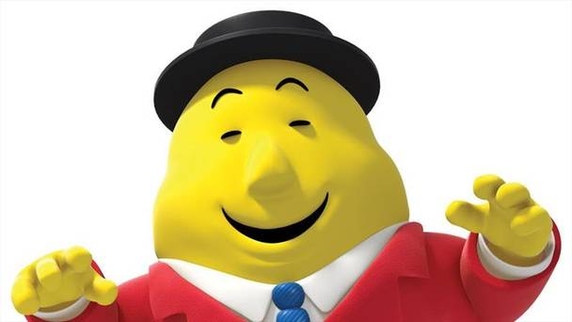 You heard it here first @taylorswift13 is just using #TomHiddleston as a cover for her love for me!...TayTo!! #Tayto #TaylorSwift 😍

— Mr.Tayto Ireland (@MrTaytoIreland) June 17, 2016
Swift was photographed with Hiddleston on the coast of Rhode Island on Tuesday. They were first spotted dancing together during the Met Gala in New York last May and The Sun newspaper then reported that they are now very much an item.
It ran a series of pictures of the two kissing on a beach near Swift's €15m mansion in Watch Hill, Rhode Island and quoted an onlooker as saying, "They were all over each other - hugging and kissing - even though there were 20 people coming and going on the beach. They looked like any young couple madly in love without a care in the world."
Taylor Swift and Tom Hiddleston have been spotted KISSING 💋💋💋 pic.twitter.com/a6W9ORzJvx

— Missguided (@Missguided) June 15, 2016
Swift and Hiddleston/TayTo are said to have hit it off when they were seated next to each other at dinner at the Met Ball in May and ended up taking to the dance floor together until the early morning.
Swift and Clavin Harris' 15-month relationship ended two weeks ago with both parties insisting that there was no one else involved in their spilt. But it seems there's little love lost between the pair. 
The DJ has now unfollowed his ex-girlfriend on Twitter and deleted the tweet he posted following their split which read, "The only truth here is that a relationship came to an end & what remains is a huge amount of love and respect."
He also deleted this none too subtle tweet which he posted just as the whole Swift/Hiddleston/TayTo thing was about to blow up everywhere.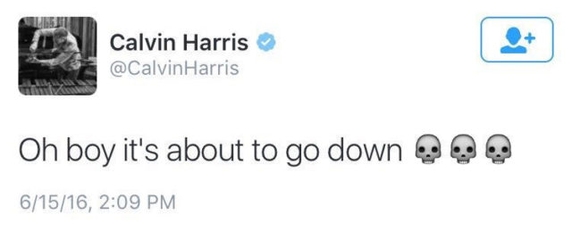 Photographs with Swift have been removed from his Instagram, while Swift retaliated by removing all trace of their relationship from her account, despite amassing a huge number of perfectly posed pictures of the them together. They really are never, ever getting back together.