Stevie Wonder joined Madonna on stage at Sunday night's Billboard Music Awards to pay tribute to Prince by performing his classic track Purple Rain.
Prince died last month aged 57 and Madonna promised a show-stopping homage to the late star.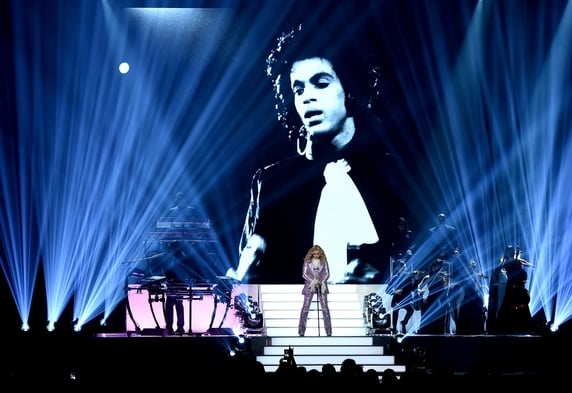 Wonder was a surprise performer at the show in Las Vegas when he joined Madonna on stage for a rendition of Purple Rain after Prince's sudden death last month.
The duet came after Madonna, wearing a purple sequinned suit and holding a cane and cross symbols, sang another Prince-penned track, Nothing Compares 2 U.
"Thank you Prince Rogers Nelson for all you have given us," she said following her performance.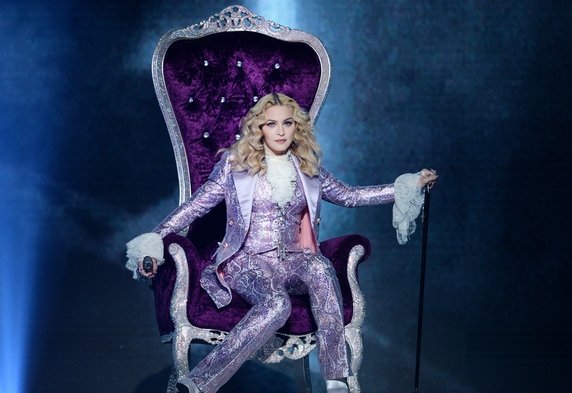 Prince fans questioned whether Madonna was the right person to pay tribute to Prince when Billboard first announced her tribute performance. Speaking ahead of tonight's ceremony, the show's executive producer, Mark Bracco said that her tribute will be "respectful" to Prince's legacy.
"Listen, I think everybody is entitled to their opinion and everyone can have their own opinion," Bracco said. "But I will say that we are honoured and could not be more excited for Madonna to be on the show and to pay tribute to someone that was her friend and her peer and her colleague."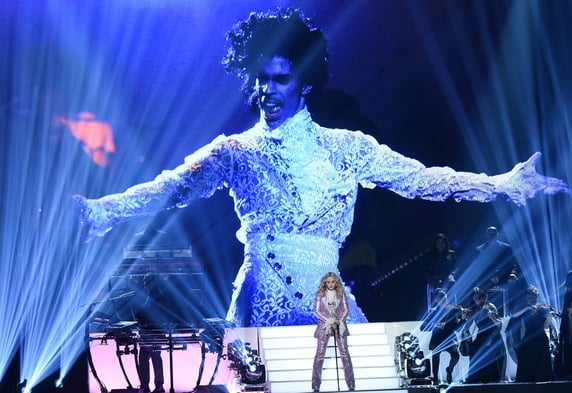 The Billboards ceremony also saw Britney Spears receive the coveted Millennium Award, which was previously been given to Beyonce and Whitney Houston.
HD - Britney Spears - Medley at Billboard Music Awards 2016https://t.co/5WCZKne7wn

— Britney Army (@FataleSong) May 23, 2016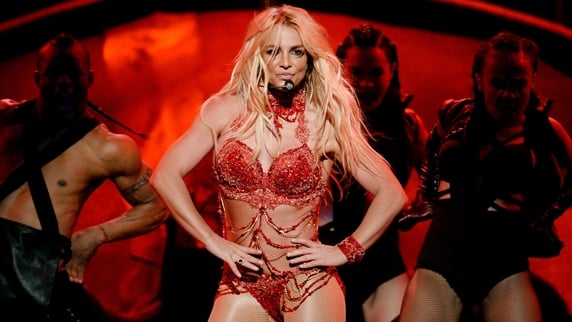 Rising to the occasion, Spears opened the ceremony with a scene-stealing performance of a medley of some of the highlights from her career so far, including Toxic, I'm A Slave 4 U and I Love Rock 'n' Roll, with an impressive stage show which saw her straddling a giant mechanical guitar at one point.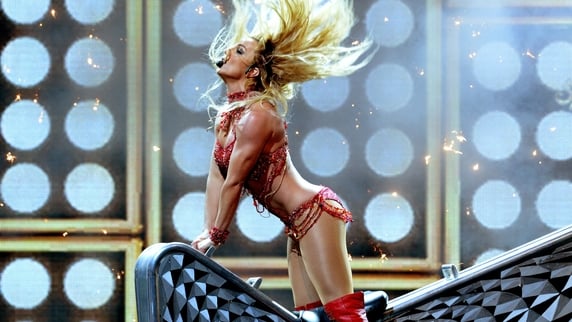 The princess of pop kicked off proceedings with an energetic rendition of her recent hit Work B**ch wearing a circus-inspired red sequinned ensemble with a top hat and over-the knee-boots.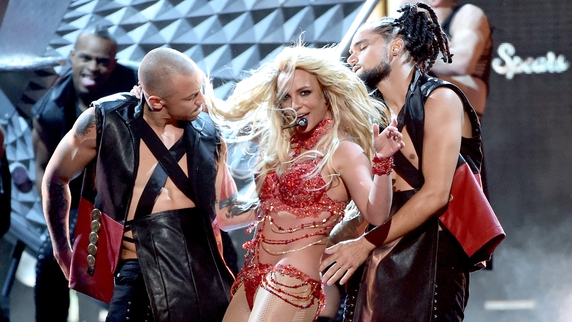 It wasn't long before she ditched her jacket to show off her risque bejewelled bikini, moving into a rendition of her 2008 hit Womanizer, complete with some seriously impressive choreography.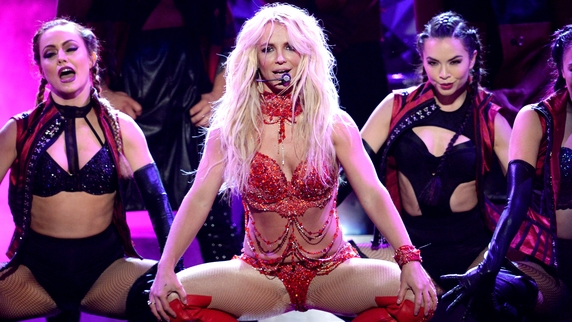 After taking it down a notch with her 2003 track Breath on Me, she brought the energy back up with fan favourite I'm A Slave 4 U, which saw her gyrate around a gold pole.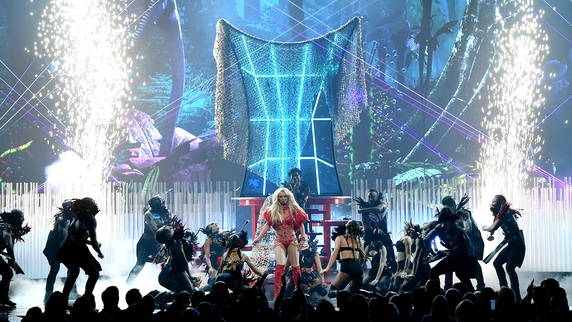 The Weeknd was the big winner at the awards, taking home eight gongs, while Adele followed with five, including the coveted Top Artist award.
Take a look at the full list of winners from the 2016 Billboard Music Awards below and check out our gallery of the event here.
Top Artist:
Adele
Billboard Chart Achievement Award (Fan-Voted):
Rihanna
Top R&B Song:
The Weeknd, The Hills
Top Billboard 200 Album:
Adele, 25
Top Male Artist:
Justin Bieber
Top Country Song:
Thomas Rhett, Die A Happy Man 
Top Hot 100 Song:
Wiz Khalifa ft. Charlie Puth, See You Again
Top Hot 100 Artist:
The Weeknd
Top New Artist:
Fetty Wap
Top Female Artist:
Adele
Top Duo/Group:
One Direction
Top Billboard 200 Artist:
Adele
Top Song Sales Artist:
The Weeknd
Top Radio Songs Artist:
The Weeknd
Top Streaming Songs Artist:
The Weeknd
Top Social Media Artist:
Justin Bieber
Top Touring Artist:
Taylor Swift
Top R&B Artist:
The Weeknd
Top Rap Artist:
Drake
Top Country Artist:
Luke Bryan
Top Rock Artist:
twenty one pilots
Top Latin Artist:
Romeo Santos
Top Dance/Electronic Artist:
David Guetta
Top Christian Artist:
Hillsong United
Top Gospel Artist:
Kirk Franklin
Top Soundtrack:
Pitch Perfect 2
Top R&B Album:
The Weeknd, Beauty Behind the Madness 
Top Rap Album:
Meek Mill, Dreams Worth More Than Money
Top Country Album:
Chris Stapleton, Traveller
Top Rock Album:
twenty one pilots, Blurryface
Top Latin Album:
Juan Gabriel, Los Dúo
Top Dance/Electronic Album:
Zedd, True Colors
Top Christian Album:
Lauren Daigle, How Can It Be
Top Gospel Album:
Kirk Franklin, Losing My Religion
Top Selling Song:
Adele, Hello
Top Radio Song:
Walk the Moon, Shut Up and Dance
Top Streaming Song (Audio):
The Weeknd, The Hills
Top Streaming Song (Video):
Silentó, Watch Me
Top Rap Song:
Wiz Khalifa ft. Charlie Puth, See You Again
Top Rock Song:
Walk the Moon, Shut Up And Dance
Top Latin Song:
Nicky Jam & Enrique Iglesias, El Perdon
Top Dance/Electronic Song:
Major Lazer & DJ Snake Featuring MØ, Lean On
Top Christian Song:
Hillsong UNITED, Oceans (Where Feet May Fail)
Top Gospel Song:
Kirk Franklin, Wanna Be Happy?