An exhibition of 262 model houses, each representing one of the 262 civilians killed during the 1916 Rising, has opened at the National Botanic Gardens in Dublin.
The 1916 Sackville Street Art Project includes model houses built out of materials such as ceramics, wood, fabric and stone.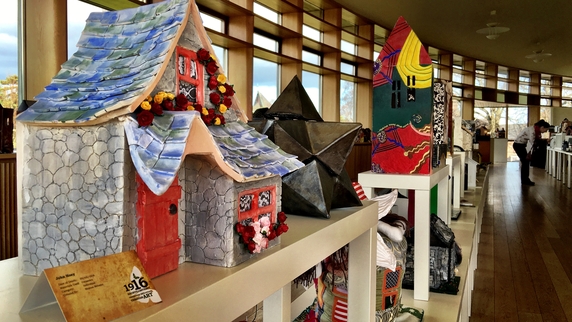 Schools, artists, prisons and historians are among the many different volunteers who have taken part.
During the 1916 Rising, 485 people were killed. Of these, 262 were civilians, ordinary people going about their day, caught in the crossfire.
"The idea was that 2016's civilians would make a piece for 1916's civilians, so it would just be ordinary people remembering ordinary people," said Ciara O'Keeffe, founder of the project.
"So emotive". 262 model houses for 262 civilians killed in 1916 Rising - new exhibition at Botanic Gardens, Dublin pic.twitter.com/LCEdV7CL2G

— Philip Bromwell (@philipbromwell) April 8, 2016
"There's this kind of association between a house, home, dwelling and the heart and what's left behind, and it all merged into one," she continued. "We said we would make a house that would be a 'forever home' for each civilian, that they would always be remembered."
The exhibition runs until April 24.