With St Patrick's Day upon us again, Alan Corr looks back at some giants of Irish television, the moments that defined Irish telly, and how we have all become experts at making a holy show of ourselves in the name of fun
As we all know, there was no sex in Ireland before the arrival of television. There were probably less audience clap-alongs too, or squirmy interviews with Hollywood royalty or game shows that required no apparent skill whatsoever. In the past 60 odd (very odd) years or so, Irish television has made a very unique impression and here are some of the moments and shows that made us who we watch
The Irish Quiz Show
Ah the Irish quiz show. From life-or-death 5p wagers on Quicksilver with Bunny Carr in the sixties to bleeding edge Commodore 64-generated tech on Murphy's Micro Quiz-M in the eighties, the Irish TV quiz show occupies a hallowed place in TV history. For those of you who've still got a migraine from watching a mere two seconds of Nicky Byrne's bewildering Million Euro Challenge, there is always Winning Streak.
Here is a TV game show with no apparent skill involved and which features members of the Irish public having the banter with Marty Whelan and Sinead Kennedy and then pressing a few buttons. The funny thing is, of course, that given its association with the National Lottery, the prize money on the show is often far higher than anything on those high-fluting' foreign game shows. Winning Streak is essentially a chance for the viewer to share the good fortune of our fellow citizens as we grind our teeth and cry bitter tears of admiration.
Vincent Browne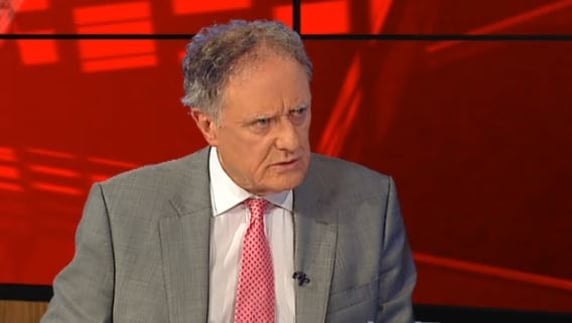 We love Vincent Browne. He is the irascible Professor Yaffle of Irish political punditry, a Mt. Vesuvius of moral indignation and spluttering disbelief at the chicanery of those in elected office. Vincent would turn Paxman white with fear and green with envy with his ability to reduce well spun politicos into near gibbering wrecks on live television. He is essentially Ireland's Howard Beale, Peter Finch's mad as hell character in Network. Sitting in that strange red (oh so very red) sci-fi set over in TV3's Ballymount HQ in west Dublin, Vinnie has become the Torquemada of Irish television current affairs. Long may he run and keep politicians on the run.
The Audience Clap-along
With FOMO having seized the nation many years ago, Irish TV audiences like to make their presence felt. And so we have perfected the art of clap along, a kind of participation game for adults in which manically grinning grown men and women can be seen flapping their hands like baby seals on a Saturday afternoon at SeaWorld in San Diego (just ask Richard Gere).
Even the theme tune to The Late Late Show is enough to inspire a mass clap along; a revered minimalist pianist could be coaxing out delicate notes of heartbreaking beauty and an Irish TV audience would somehow manage to join in with a mass clap along. Were we wounded and hurt when Russell Crowe scolded us for not clapping in time when he appeared on the Late Late Show last year to grunt out some old dad rock with the house band? Were we feck!
Twink's Dog Is Given A Psychic Reading
I'll say that again - Twink's dog is given a psychic reading on live television. Last year, People's Entertainer and panto warhorse Twink (real name Adele something) appeared on RTÉ Cork's Today show in a live link-up from Dublin clutching her precious dog Teddy to her bosom as celebrity clairvoyant Derek Acorah read His Tiny Little Doggy Mind! The feisty Yorkshire Terrier (Teddy, not Derek) had been through a lot, you see - the previous year he was dog-napped but was thankfully reunited with his distraught mistress.
The Rose of Tralee
You can take your pick from pretty much any year down in The Dome in Tralee. Visiting dignitaries and dazed tourists may gaze in rapt wonder at our quaint Irish ways as the national broadcaster conjures up Dev-like visions of maidens dancing at crossroads on an annual basis. Also on an annual basis, po-faced Irish natives will grumble about how "this is setting us back years!!!" and that "it's a national disgrace!" 1.3 million viewers can't be wrong and The Rose of Tralee is TV gold.
In recent years, under the watchful and twinkly eye of local boy Dáithí Ó Sé, the now three-day festival has become very good at sending itself up in affectionate fashion. This year, can we expect some Healy Raes as escorts?
The Angelus
Is this an anachronistic hangover from an era when Ireland was a priest-infested backwater and everybody used to climb big mountains in their bare feet while flagellating themselves with fistfuls of gorse? Or is it a nice one minute (and it is only one minute, folks!) chance to gather our thoughts before teatime? The Angelus has been aired daily at 6.00pm since the inception of RTÉ television in 1962. Before that it aired on radio (and it still does, of course) and back then, kindly old duffer Archbishop McQuaid insisted the whole thing came live twice a day from the Pro Cathedral. Cables were linked to nearby GPO but legend has it that years of pigeon crap on the microphone put an end to that.
To reflect the changing times and our increasingly secular society, last October RTÉ announced that it was commissioning a series of films to "create a reflective space for all in the peak-time schedule" to replace the overt religiosity of the Angelus. So there you have it - a much-needed pause for thought and reflection before Sharon and Dobbo tell us more bad news. All together now, Bong! Bong! Booooooong!
Horse falls down a hole School Around the Corner
Waaaaay before really irritating people on the internet starting using the word "adorable" to describe pretty much anything vaguely nice, this early and hugely popular RTÉ show was, well, adorable. Irish school kids gathered with avuncular host Paddy Crosbie and talked about life and how to live it in that hilariously honest way kids do. On one memorable episode, a young lad from Tipperary told Harry about the day "our donkey fell into a hole and daddy couldn't get him out and he had to shoot him". A concerned Paddy asked "did he shoot him in the hole?" Replied the little lad from Tipp, "No, he shot him in the head".
Alan Corr