The Irish co-productions Brooklyn and Room were among the winners at the BAFTAs in London on Sunday night, with Brooklyn winning Outstanding British Film and Room star Brie Larson winning Best Actress.
The John Crowley-directed Brooklyn was part-funded by the Irish Film Board along with BBC Films and Telefilm Canada, among others, and was adapted by Nick Hornby from the Colm Tóibín bestseller of the same name.
Brooklyn is set in Ireland and New York City and follows Saoirse Ronan's character Eilis Lacey as she starts her new life in the US. After falling for an Italian-American man (Emory Cohen), she's forced to consider a move back to Ireland.
Speaking to RTÉ on the red carpet, Hornby said that getting Brooklyn to the big screen wasn't an easy journey: "This film was really, really hard to put together. It was really hard for the producers - it took five years to get to production because no one would fund us.
"You have to sort of pinch yourself really to think that it's made it all the way through to this."
Nick Hornby says #Brooklyn was "really really hard to put together" #BAFTAhttps://t.co/ccnTXHVFKS

— RTÉ TEN (@RTE_TEN) February 14, 2016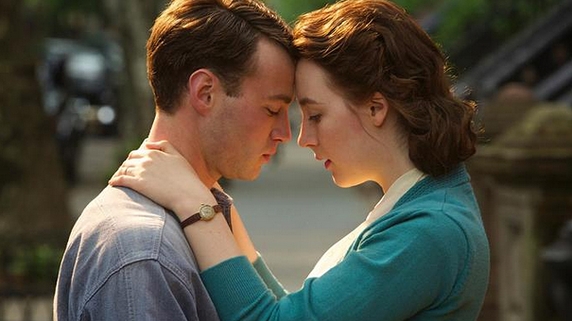 Saoirse Ronan with co-star Emory Cohen in Brooklyn
Saoirse Ronan was joined by her Brooklyn co-star Eileen O'Higgins, who plays Nancy, on the BAFTAs red carpet. They both agreed that the movie was a universal tale, with 21-year-old Ronan saying she was surprised by the success of the film.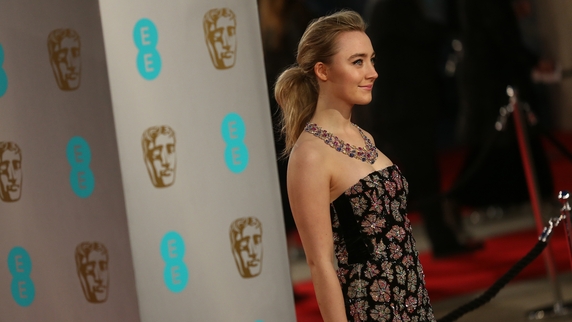 Saoirse Ronan on the red carpet
"I think there is a universality to just someone leaving home and even though it's quite a beautifully simple story, it's one that everyone can relate to - because everyone has gone through that experience regardless of where you came from and where you went to," she told RTÉ.
"We didn't expect it to become quite as big as it has done but I can understand why people relate to it in the way they do."
Saoirse Ronan understands why #Brooklyn is such a universal tale and says she didn't expect the success of the moviehttps://t.co/tmajVvAZFB

— RTÉ TEN (@RTE_TEN) February 14, 2016
Following on from her big win at the Golden Globes, Brie Larson once again received the Best Actress award for her role as 'Ma' in Room, which is based on the book of the same name by Irish author Emma Donoghue. It tells the story of a young woman (Larson) and her five-year-old son (seven-year-old newcomer Jacob Tremblay) who are held captive for six years in a tiny shed.

The 26-year-old actress won the coveted award over Saoirse Ronan (Brooklyn), Alicia Vikander (The Danish Girl), Cate Blanchett (Carol) and Maggie Smith (The Lady in the Van). She is also the favourite for the Oscar.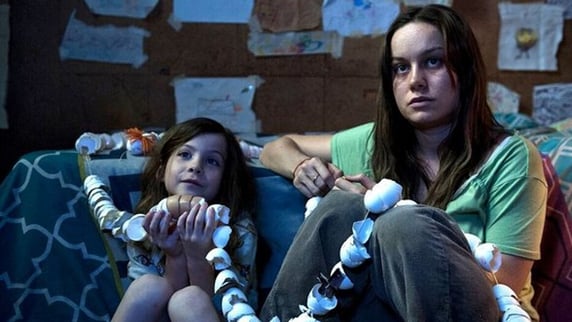 Brie Larson will need to get a trophy room for all of her awards
Room was backed by the Irish Film Board and co-produced by Dublin company Element Pictures. Its author and screenwriter, Emma Donoghue, praised Dublin director Lenny Abrahamson for bringing her book so beautifully to the big screen.
"This was a beautiful indie film we'd made and I thought it would have the fortune of most indie films. I didn't know we'd get taken this seriously and that people would realise what a big film Lenny [Abrahamson] has managed to make out of a small setting," Donoghue told RTÉ.
"It's just superb and such a testament to Irish film-making. I mean, the Irish Film Board has a relatively small budget, but by God, are the results beautiful."
Room author Emma Donoghue says Lenny Abrahamson's movie is "such a testament to Irish filmmaking" #BAFTAhttps://t.co/czrF5oAzYm

— RTÉ TEN (@RTE_TEN) February 14, 2016
Leonardo DiCaprio continued to add to his awards season tally for epic adventure The Revenant, winning Best Actor. In the film DiCaprio plays frontiersman Hugh Glass who is hell-bent on revenge after being left for dead in the wilderness.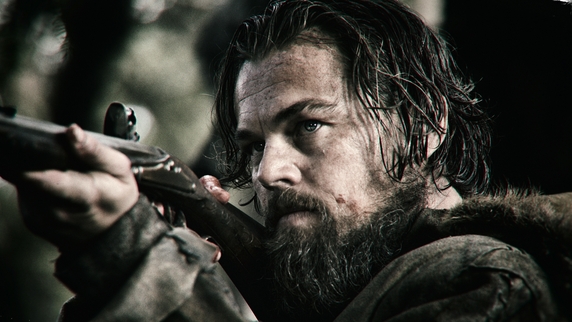 Leonardo DiCaprio hit the target at the BAFTAs
The Revenant won the most BAFTAs on the night with an impressive five awards: Best Cinematography; Best Sound; Best Actor; Best Director (Alejandro González Iñárritu) and Best Film. Oscar glory is also predicted on February 28.
Director Alejandro G Inarritu had a little trouble pronouncing his 'Irish friend' #DomhnallGleeson's name #BAFTAshttps://t.co/Uex75bHlPv

— RTÉ TEN (@RTE_TEN) February 15, 2016
Star Wars: The Force Awakens actor John Boyega took home the Rising Star award, the only BAFTA voted for by the public, at this year's event.

"I want to thank God for this moment. I have some very special people in my life... I'm going to share this award with all the young dreamers who are hard-working... This is for you," he said as he accepted his award.

Star Wars: The Force Awakens also won the BAFTA for special visual effects.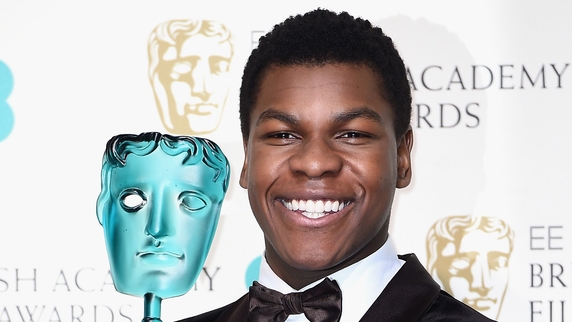 John Boyega won the Rising Star award (voted for by the public)
Check out the full list of winners from the British Academy Film Awards below and you can look at all of the style and glamour from the night here
Outstanding British Film
45 Years
Amy
Winner: Brooklyn
The Danish Girl
Ex Machina
The Lobster
Best Makeup and Hair
Brooklyn
Carol
The Danish Girl
Winner: Mad Max: Fury Road
The Revenant
Best Cinematography
Bridge of Spies
Carol
Mad Max: Fury Road
Winner: The Revenant
Sicario
Best Documentary
Winner: Amy
Cartel Land
He Named Me Malala
Listen to Me Marlon
Sherpa
Best Original Music
Bridge of Spies
Winner: The Hateful Eight
The Revenant
Sicario
Star Wars: The Force Awakens
Best British Short Film
Elephant
Mining Poems or Odes
Winner: Operator
Over
Samuel-613
Best British Short Animation
Winner: Edmond
Manoman
Prologue
Best Editing
The Big Short
Bridge of Spies
Winner: Mad Max: Fury Road
The Martian
The Revenant
Best Sound
Bridge of Spies
Mad Max: Fury Road
The Martian
Winner: The Revenant
Star Wars: The Force Awakens
Best Special Visual Effects
Ant-Man
Ex Machina
Mad Max: Fury Road
The Martian
Winner: Star Wars: The Force Awakens
Rising Star (voted for by the public)
Bel Powley
Brie Larson
Dakota Johnson
Winner: John Boyega
Taron Egerton
Best Supporting Actor
Benicio del Toro, Sicario
Christian Bale, The Big Short
Idris Elba, Beasts of No Nation
Mark Ruffalo, Spotlight
Winner: Mark Rylance, Bridge of Spies
Best Animated Film
Winner: Inside Out
Minions
Shaun the Sheep the Movie
Best Supporting Actress
Alicia Vikander, Ex Machina
Jennifer Jason Leigh, The Hateful Eight
Julie Walters, Brooklyn
Winner: Kate Winslet, Steve Jobs
Rooney Mara, Carol
Best Costume Design
Brooklyn
Carol
Cinderella
The Danish Girl
Winner: Mad Max: Fury Road
Outstanding Debut by British Writer, Director or Producer
Alex Garland (director, Ex Machina)
Debbie Tucker Green (writer/director, Second Coming)
Winner: Naji Abu Nowar (writer/director, Theeb)
Sean McAllister (director/producer, A Syrian Love Story), Elhum Shakerifar (producer, A Syrian Love Story)
Stephen Fingleton (writer/director, The Survivalist)
Best Adapted Screenplay
Winner: The Big Short
Brooklyn
Carol
Room
Steve Jobs
Outstanding British Contribution to Cinema
Angels Costumes
Best Original Screenplay
Bridge of Spies
Ex Machina
The Hateful Eight
Inside Out
Winner: Spotlight
Best Film Not in the English Language
The Assassin
Force Majeure
Theeb
Timbuktu
Winner: Wild Tales
Best Production Design
Bridge of Spies
Carol
Winner: Mad Max: Fury Road
The Martian
Star Wars: The Force Awakens
BAFTA Fellowship
Sidney Poitier
Best Director
Adam McKay, The Big Short
Steven Spielberg, Bridge of Spies
Todd Haynes, Carol
Ridley Scott, The Martian
Winner: Alejandro González Iñárritu, The Revenant
Best Actress
Alicia Vikander, The Danish Girl
Winner: Brie Larson, Room
Cate Blanchett, Carol
Maggie Smith, The Lady in the Van
Saoirse Ronan, Brooklyn
Best Actor
Bryan Cranston, Trumbo
Eddie Redmayne, The Danish Girl
Winner: Leonardo DiCaprio, The Revenant
Matt Damon, The Martian
Michael Fassbender, Steve Jobs
Best Film
The Big Short
Bridge of Spies
Carol
Winner: The Revenant
Spotlight