Adele has beaten Ed Sheeran, Taylor Swift and One Direction to be named the most popular music act in the world.
The 27-year-old Londoner, who is due to play Belfast and Dublin in late February and March, was named the top recording artist across the globe in 2015, according to music trade body, the International Federation of the Phonographic Industry (IFPI).
The Press Association reports that Adele is the third recipient of the IFPI Global Recording Artist of the year award - an accolade that reflects an artist's worldwide popularity across physical formats, downloads and streams.
Her place at the top of the chart was driven by the October release and subsequent global success of lead single Hello from her third album, 25, which followed in November.
Hello was number one in more than 30 countries worldwide, including Ireland, the US, Germany, France, Italy, Australia and the UK. 25 has already enjoyed worldwide sales of over 15 million.
Yorkshire lad Sheeran took second place, one up from the third spot he occupied on the 2014 ranking.
The singer, who released his second studio album x in June 2014, sold out Croke Park in Dublin on two consecutive nights last summer.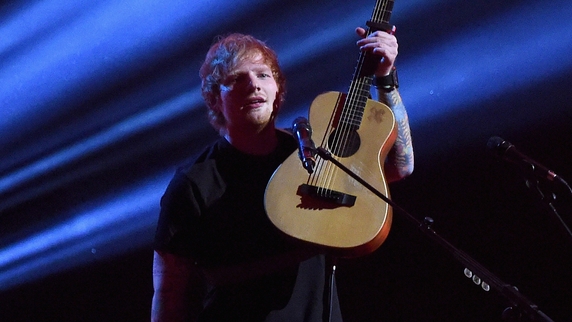 He also kept a high profile in 2015 due to a busy schedule of touring, award wins and personal appearances, while launching his own record label, Gingerbread Man Records, an imprint of Atlantic Records UK.
In third place this year was Taylor Swift, who was the recipient of the 2014 IFPI Global Recording Artist award.
Swift had a busy year with her October 2014 release 1989 continuing to dominate the worldwide charts in 2015 after notching up 1.3 million sales in the first week of release in the US alone, and she also embarked on the 85-date 1989 world tour.
Taylor talks to TEN
Justin Bieber took the fourth spot and One Direction (recipients of the 2013 Global Recording Artist award) were placed fifth.
Coldplay are at six, Maroon 5 at seven, Sam Smith is at eight, Drake is at nine, and The Weeknd at 10.
According to the IFPI, their Global Recording Artist award and top 10 chart is the only ranking to accurately capture the popularity of artists across streaming channels, alongside digital and physical album and singles sales on a global basis.
Top 10 Global Recording Artists of 2015:
1 - Adele
2 - Ed Sheeran
3 - Taylor Swift
4 - Justin Bieber
5 - One Direction
6 - Coldplay
7 - Maroon 5
8 - Sam Smith
9 - Drake
10 - The Weeknd