We may be the most successful country in the history of the Eurovision Song Contest but it's been 20 years since we've taken the crown! Here's are our top TEN most memorable Irish moments in Eurovision history.
Making our Eurovision debut in 1965, we have competed an astounding 49 times so far, with a record seven wins.
10. Linda Martin - 1992
Why Me? The song finds its way into a surprising amount of conversations when faced with something you really don't want to do, but it also kicked off our lucky streak of three wins in a row, and was the second win for the song's writer Johnny Logan.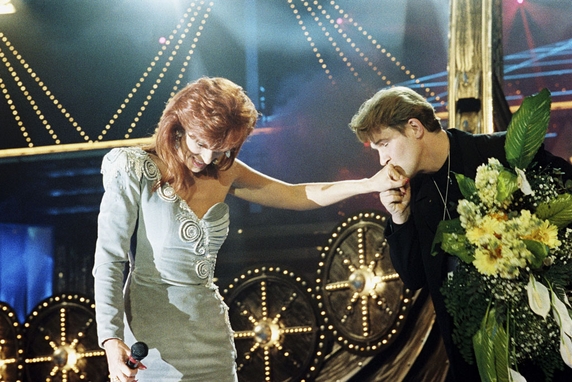 While the song has been imprinted on our memories, Linda's look is equally iconic with her pale green, one-sleeved, celtic dress and voluminous red hair oozing '90s style. It was also second time's the charm for Linda who made her first bid for Eurovision glory in 1984 with Terminal 3, which came second.
Last week she performed a more eh uptempo remix version of the song on the Late Late Show. It certainly got tongues wagging if nothing else. Just check out that glo-stick action!
#LindaMartin performs a dance remix of her Eurovision-winner Why Me? The glow sticks were a nice touch. #latelatehttps://t.co/7CI0dH8Xkv

— RTÉ TEN (@RTE_TEN) May 6, 2016
9. Mickey Joe Harte - 2003
It terrifies me that this was 13 years ago, but Mickey Joe and his emerald green guitar will go down in Eurovision history as a true highlight, and having won over the nation while competing on You're A Star, we were all rooting for him.
I remember being outraged that he didn't win that year because how could the voters not love We've Got The World Tonight? Given our recent Eurovision track record, coming in at 11th is pretty good going, but poor Mickey Joe, he gave it his all.
8. Niamh Kavanagh - 1993
Our first win on home ground, Niamh Kavanagh's In Your Eyes became not just a Eurovision sensation, but a chart sensation too, going on to become the highest-selling single in Ireland that year. Not only did Niamh's win continue a lucky winning streak for Ireland in the 90s but it was all the more sweet as it took place in Millstreet, Co. Cork, the first time the song contest was staged outside a major urban centre. It was the best riposte to lots of sneering comments including that of one BBC correspondent who claimed that the Eurovision was being held "in a cowshed in Ireland."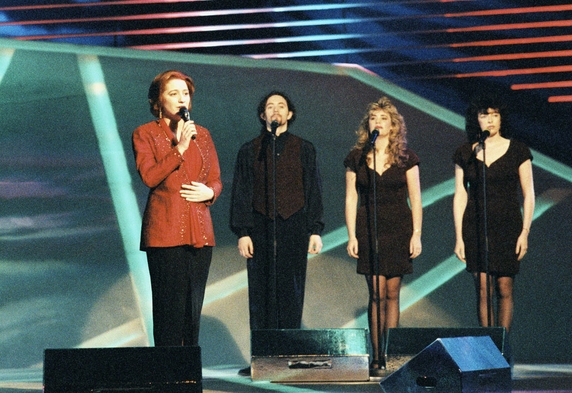 This wasn't Niamh's final brush with the Eurovision however, taking to the stage again in 2010 to represent Ireland for the second time. Unfortunately, she came 23rd overall, with a total of 25 points proving that not even a Eurovision great could break our losing streak.
7. Eimear Quinn - 1996
Given our incredible record in the Eurovision, it's kind of sad to think that this is the last time we came out victorious. Yes, it really has been twenty years!! Eimear Quinn's The Voice marked our seventh win and the song, her voice, the white dress, everything about it was just perfect.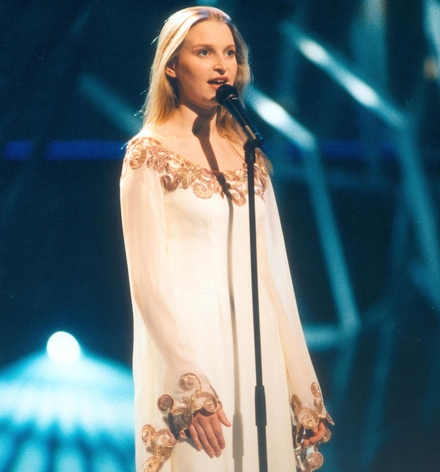 This was also our fourth win in five years - really how could we have kept up that kind of momentum?
6. Johnny Logan - 1980
Our second win came at the hands of the most successful person in Eurovision history, the one and only Johnny Logan. This would be Johnny's first win of three, having written Linda Martin's winning song Why Me? and going on to win again himself in 1987 with Hold Me Now.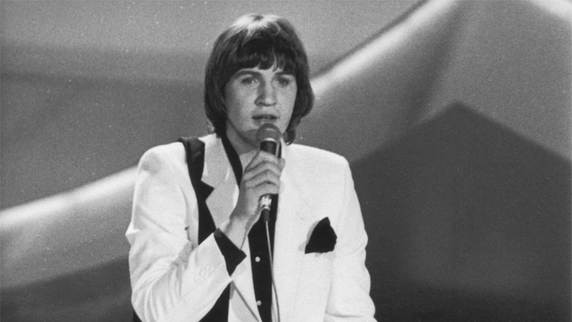 While the song was written by Shay Healy, it was rearranged to suit Johnny's singing style by Bill Whelan, the man that would go on to compose Riverdance, so What's Another Year is a sort of coming together of Eurovision genii.
Overcome with emotion while performing the song at the end of the show, having been revealed as the winner, Johnny was unable to reach all of those high notes and instead exclaimed, "I love you Ireland!" which was just a lovely moment. And let's not forget that legendary white suit, which caused outbreaks of swooning across the continent. The suit has now found a shiny new home for itself in none other than the ABBA Museum in Stockholm. If he has any sense Nicky Byrne will kneel before it and pray later this week.
5. Jedward - 2011/2012
Jedward and Eurovision - a perfect pair in terms of entertainment value. Their single Lipstick may have shot to number one in the charts here in Ireland, but the lads failed to bring home some Eurovision glory. They didn't do too badly in the scoring department however, finishing in 8th place – a big jump from Ireland's finish in 25th place the previous year.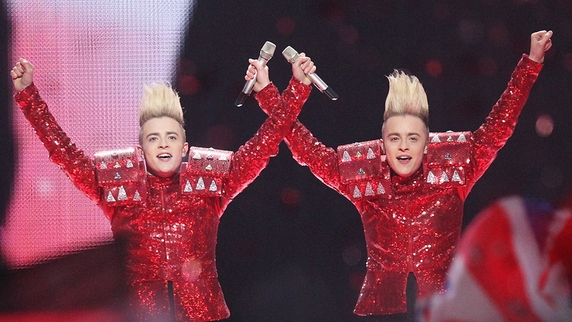 The lads were bitten by the Eurovision bug and returned in 2012, this time coming 19th. While their rendition of Waterline didn't earn us enough points to win, we just love watching the lads perform and they really did give it their all. Just look at how much fun they're having!
4. Dana - 1970
Our very first Eurovision win came at the hands of Dana and her iconic performance of All Kind's Of Everything. Dana was the 12th and final performer in Amsterdam that night (yes, you read that right, there was only 12 entries) and she earned an astounding 32 points. Her angelic and understated performance even beat Julio Iglesias, who came 4th.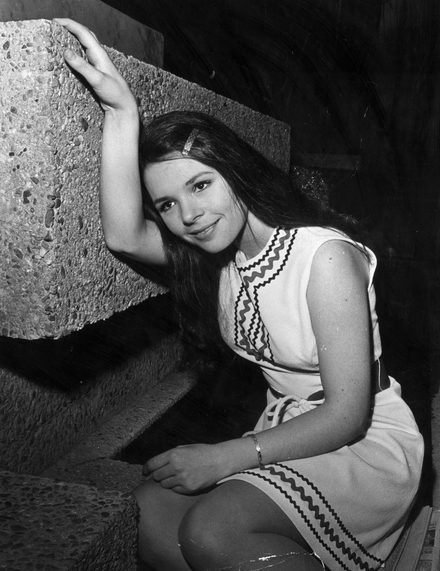 3. Johnny Logan - 1987
The King of Eurovision, Johnny Logan, took his second title in 1987 with the classic track Hold Me Now, a song I'm sure everyone in Ireland can sing along to with scary precision. While his performance was flawless, and the win incredible, the highlight was definitely his emotional "I still love you, Ireland!" comment, harking back to his original win seven years previously.
Hold Me Now was recently voted the third best Eurovision song of all time, Behind ABBA's Waterloo and Domenico Mudugno's Volare.
2. Riverdance - 1994
Ah Riverdance, without a doubt the best interval act in Eurovision history and the pinnacle of our contribution to the song contest, and perhaps the world of dance.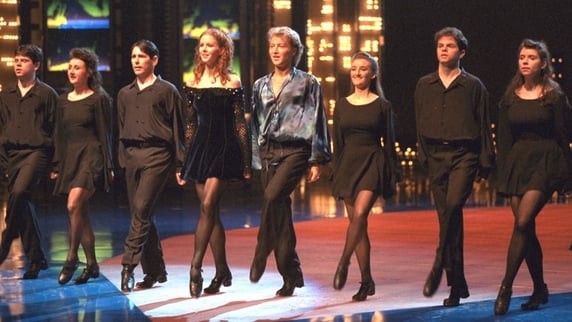 Host Gerry Ryan introduced it as a "full bodied, orchestral dance piece" featuring the "magical dance partnership of Jean Butler and Michael Flatley" and it really was just that.
It was absolutely breathtaking, stunning and inspirational. The kind of event I'm sure everyone remembers vividly seeing for the first time. It still makes the hairs on the back of your neck stand up every time. Move back the furniture, point out the toes and relive the moment when Irish dance finally became cool and sexy.
1. Paul Harrington & Charlie McGettigan - 1994
Rock 'n' Roll Kids is a song that has stood the test of time and Paul and Charlie's performance is heralded as one of Eurovision's better entries across the board. Simple, straightforward, with a touching blend of nostalgia it won the hearts of juries across Europe and still stands the test of time.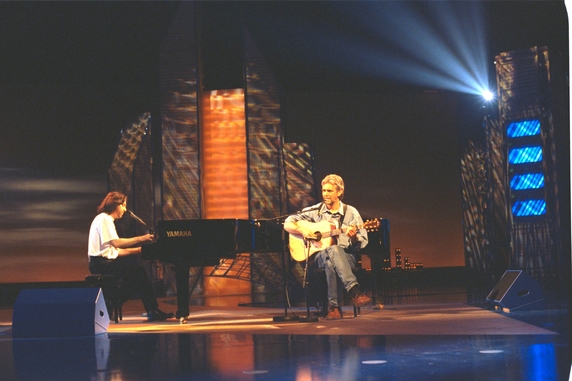 1994 was a special year for Ireland and the Eurovision - aside from launching the international phenomenon that is Riverdance and winning - it marked our third consecutive victory, and our second on home turf. It's still the only time any country has won it three times in a row so that's something to be proud of!
Sinead Brennan
For lots more Eurovision nostalgia long on to the
RTÉ Player
.