Fans said that U2's 3Arena homecoming gig was "like a pub show", saying the gig was so intimate it was like you were in Bono's house.
U2 super fan Beth Nabi, who travelled from the States to see all four 3Arena gigs, told TEN after the gig: "It was special. U2 were so well received and you could tell they were so happy to be here playing for that home crowd."
Her partner Chris LeClere said: "After seeing them in all the other cities and all the other shows, this felt more like just a hometown show. It was like you were in a pub listening to a band on a stage and everybody's just having a good time and getting into it."
Beth added: "You felt like you were in Bono's house", with Chris interjecting: "You did, it wasn't a big concert, it was a pub show from a group of guys who were just playing for fans and the fans loving them.
U2 frontman Bono has said he's thrilled to be back on the Northside of Dublin and thanked fans for their patience and sticking with the band at the 3Arena on Monday night.
The homecoming gig is the first time Bono and the lads have played Dublin since 2009 at Croke Park and all four gigs this week on their iNNOCENCE + eXPERIENCE tour are sold out with many travelling long journeys to see the famous foursome perform on home turf.
Speaking to the cheering crowd at the gig, Bono said, "Do you know what we have spent the last nine months travelling the world trying to explain what the Northside of Dublin is and we don't have to do that tonight because we're here.

"This is a great feeling for us to be home," he said.
He later thanked fans, saying: "Thanks for giving us this life. Thanks for your patience. Thanks for sticking with us."
A message to young bucks everywhere: this is how you put on a show #U2ieTour https://t.co/CMowWUj79p

— RTÉ TEN (@RTE_TEN) November 23, 2015
What a tune! #U2 perform The Miracle (Of Joey Ramone) #U2ieTour https://t.co/zEtotuySvS

— RTÉ TEN (@RTE_TEN) November 23, 2015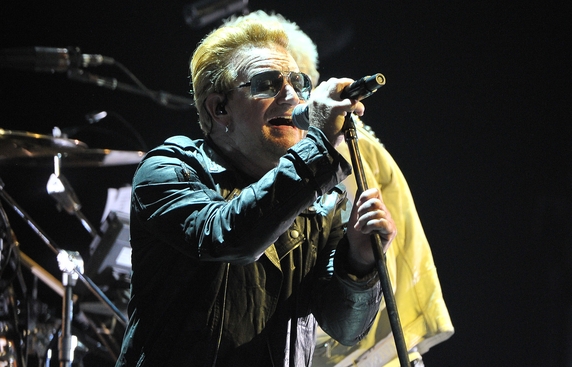 One American fan said that she had sacrificed Thanksgiving celebrations with her family to come to the gig.
"I just couldn't miss it, I had to come no matter what. I'm missing Thanksgiving which is a big deal in the United States, so my family had to forgive me....I had to go to Dublin to see U2", she said.
Another Italian fan said "such a great place being here in Dublin, it's like being at home. It's the home of U2, the home of every U2 fan actually".
U2 perform Sunday Bloody Sunday @3arenadublin #U2ieTour https://t.co/3FTpCFv6y1

— RTÉ TEN (@RTE_TEN) November 23, 2015
Inside the 3Arena fans have been sharing their excitement at the show.
HE has arrived on stage! #U2 #Bono pic.twitter.com/BooUotXMuM

— Caroline Kennedy (@CKennedyPR) November 23, 2015
Another man who's also been swamped by fandom is Tom Ryan, the owner of Bono's boyhood home on Cedarwood Road in Glasnevin.
He told RTÉ that fans have long been making a pilgrimage to the singer's old homestead but that attention has really picked up after the band wrote the nostalgic song Cedarwood Road for their last album Songs of Innocence.
"Oh that's really escalated it. This period with the concerts going, its escalated the fans bigtime. If I charged them a penny for each photograph, I'd be a rich man", he joked.
In just a few minutes #U2 will be on this very stage and we CAN'T WAIT!!! #U2ieTour https://t.co/By8WHVmbUc

— RTÉ TEN (@RTE_TEN) November 23, 2015
It's almost time for #U2 to take to this epic stage - atmosphere is electric #U2DublinConcerts #U2Dublin #U2ieTour pic.twitter.com/5unQLSk53T

— RTÉ TEN (@RTE_TEN) November 23, 2015
Fans from all over the world all saying the same thing the big draw is seeing #U2 indoors at home #U2DublinConcerts #U2ieTour

— RTÉ TEN (@RTE_TEN) November 23, 2015
It may be raining but nothing can dampen these U2 fans' spirits #U2DublinConcerts #U2ieTour #U2 pic.twitter.com/uI6FOrmoUc

— RTÉ TEN (@RTE_TEN) November 23, 2015
The view for tonight #U2ieTour #U2 pic.twitter.com/ZDPJjzSsQN

— Marja van der Veer (@mveernl) November 23, 2015
Over the weekend Bono and co were spotted out and about in Dublin ahead of tonight's gig.
The lads are back in town and they are making sure they catch up with friends and family in their favourite establishments ahead of their gigs at the 3Arena this week.
The Edge was spotted dining out with his wife Morleigh Steinberg at Luna restaurant in Dublin on Saturday. Bono later joined the couple with some of his friends.
According to reports fans did not bother the famous diners for autographs or pictures, leaving them to enjoy their meal in peace.
U2 also shared a pic on Twitter yesterday of four pints of Guinness standing in a row on a table in Peter's Pub on South William Street. If you look very closely at the mirror in the background of the pic you can see that it was Bono taking the snap.
The boys are back in town #U2ieTour pic.twitter.com/n8tHAI0sUy

— U2 (@U2) November 22, 2015
The €2 million proceeds from this week's gigs meanwhile will go to Music Generation, Ireland's national music education programme.
Its director, Rosaleen Molloy, said: "Music Generation would not exist without U2's vision. It was the band's very own personal experience of music education as children and teenagers that has driven their commitment to kick-start this ground breaking project."