Great British Bake Off champion Nadiya Jamir Hussain has said she has her husband to thank for pushing her to apply for the show.
The stay at home mother said she believed she had no chance of making it on to television, but said she had walked out of the Bake Off tent "a much stronger, confident person" following yesterday's emotional final.
Nadiya triumphed over fellow finalists Ian Cumming and Tamal Ray in the final baking task by creating the classic British cake.
According to judges Paul Hollywood and Mary Berry, people's favourite Nadiya made "lovely" iced buns, a near-perfect raspberry millefeuilles and a triple-tiered lemon drizzle wedding cake. But it was her final creation - the "classic British cake" which saw her win most favour with the judges and go home with the GBBO trophy.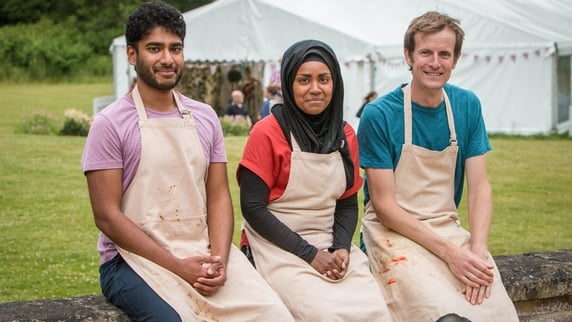 Tamal, Nadiya and Ian
Nadiya told BBC Breakfast: "It feels like I'm relieving that moment again. It was one of the best moments of my life.
"My husband (Abdul) tried to get me to apply two years ago and I said, 'look, I don't have the confidence to do something like this', and this year he pretty much forced me and said, 'you're really good, you're really clever, you should just do it, what's the worst that will happen?'.
"Those were famous last words. And I did it, and I went in and I applied and every stage of the process felt unlikely and like it wasn't meant to happen. My confidence grew and then this happened."
Asked about her famous facial expressions, which won her a legion of fans on the show, she said she had "no idea my face could do that" and hopes her baking will be the lasting impression on viewers - and not her eyebrows.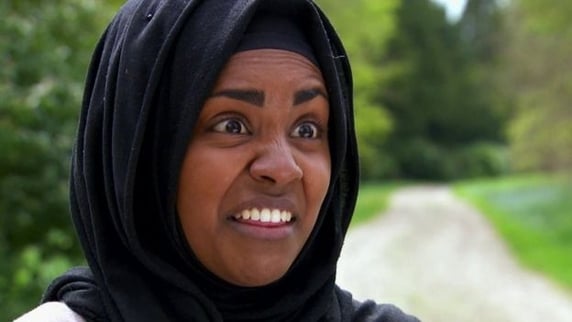 One of Nadiya's classic facial expressions
Throughout this year's contest, Nadiya impressed the judges with her perfectionist attention to detail and mastery of flavours. Some stand-out concoctions include a chocolate peacock showstopper, a fizzy pop cheesecake which featured a levitating can of pop and a chocolate tart which earned her a congratulatory handshake from judge Paul Hollywood in the semi-final.
The mother-of-three described how she "comes from a culture where there is no such concept of dessert after dinner" and she caught the bug for baking during home economics.
She did not have a wedding cake at her own marriage as it is not a tradition in her birth country of Bangladesh and she went all out with her final spectacular - a wedding cake decorated with jewels from her own wedding day.
A record 13.4 million people in the UK tuned in to watch last night's final, making it the most watched show of the year there.
Morning after the night before... All feels like a dream... Somebody pinch me

— Nadiya Jamir Hussain (@BegumNadiya) October 8, 2015
Be honest who cried last night? @achrisevans ??? To be honest even I got a little emotional !

— Paul Hollywood (@PaulHollywood) October 8, 2015
The one where our family all held hands on the sofa and cried along with Mary Berry #GBBOFinal @BritishBakeOff

— Kate Bottley (@revkatebottley) October 7, 2015
help me I'm crying #GBBOFinal

— Years & Years (@yearsandyears) October 7, 2015
Mary Berry choking up on The Great British Bake Off Final made me cry salty caramel tears.

— Una Mullally (@UnaMullally) October 7, 2015