St Etienne play their much-loved debut album Fox Base Alpha in its entirety at the NCH in Dublin on Tuesday. Alan Corr talks to music journalist turned unlikely pop star Bob Stanley and front woman Sarah Cracknell
1991 was a dark year for the pop charts in Britain. Away from the bandwagon jumping (The Soup Dragons, anyone?), the grebo racket of The Wonderstuff and the noisome Carter USM, the charts were clogged with the likes of Enigma and their naughty New Age vibe, everybody was doing the Bart Man, and Bryan Adam's had a 16-week reign of terror at No 1 with (Everything I Do) I Do It for You.
Into this void stepped St Etienne. Hailing from the unlovely London suburb of Croydon, they were a trio made of Pete Wiggs and Bob Stanley, two music hacks turned studio boffins, and soon-to-be indie kid sex symbol, Sarah Cracknell. Her voice was a like a heavenly sigh and she exuded sixties sex kitten chic on songs about the excitement of being new in the big city, love, and the beauty of nature. Their debut album was called Fox Base Alpha and the title alone conjured up images of sci-fi mystery and high cool.
Fox Base Alpha was an infectious mix of Italio disco, post acid house beats, and pastoral English folk. Every indie boy and girl making the move to indie dance had a copy clutched close to their hearts as they swooned to anthems like Nothing Can Stop Us and the band's dreamy cover of Neil Young's Only Love Can Break Your Heart.
Nearly 25 years later, Stanley, who is now also an acclaimed author of music books such as last year's Yeah, Yeah, Yeah: The Story of Modern Pop and a respected film producer, takes a wry but diplomatic overview of what was going on when Fox Base Alpha came out. "It was a mixed bag. There was a lot of interesting post-rave era stuff coming out, break beat stuff, XL label was getting off the ground, the records on the Shut Up and Dance label were fantastic . . . " he says.
"The music papers were writing about Carter USM and The Wonderstuff and a bunch of stuff we definitely didn't like at all. We didn't have a manifesto but we definitely wanted to bring melodies back, crisper productions, better vocals, we wanted to make pop music voguish I suppose."
The original plan for St Etienne, who are named after the French football club, was for an intelligent pure pop record featuring a series of female vocalists. However, once they met Cracknell they had found the perfect voice for their music.
Cracknell has been in and out of bands since her early teens but with St Etienne she found the berth for her sensual and evocative voice. She went on to make seven albums with St Etienne and she has also released two very well-received solo albums including this year's Red Kite.
"We just clicked basically because we had so many of the same reference points," she recalls. "But if you said to me then that you'll be with this band for 25 years . . . . hahahaha. It was just one of those things that had its own momentum, which is great."
Listening to Fox Base Alpha now it sounds charmingly naïve. St Etienne in the late eighties and early nineties really were a half-formed thing and at the time, music hacks Stanley and Wiggs were dreaming up visions of pure pop with a heart and a brain.
"I don't think we had any dreams actually," laughs Stanley. "Because I couldn't play anything. I bought a Korg MS-10 synth in the early eighties and we got a portastudio and we did try and do a few things and it just sounded awful. We had a crack at doing an acid house record in 1988 but again, it sounded awful.
"We were lucky in that we hadn't put out any embarrassing early recordings. It was only for fun. I never thought I'd be a band. I wasn't a musician and it was technology that made it all possible because we were all big pop fans and we had fairly large record collections and when sampling came along it was a gift.
"The first song we wrote was Nothing Can Stop Us so it's been downhill ever since!" he continues. "I'd never really tried to write a song in my life before that. Fox Base Alpha is a scrapbook to be me, it's so stylistically all over the place but I suppose it didn't sound like much else that was around at the time. People have very fond memories of it which is wonderful."
Cracknell shares those fond memories: "It had that first album syndrome, which is a good thing in that it was a melting pot," she says. "We thought `my god! We're making an album and we might not get to make another one ever!' so we really went for it. I mean, I changed some words and maybe changed some melodies but Pete and Bob really had it all done already and I was really coming on board at that point."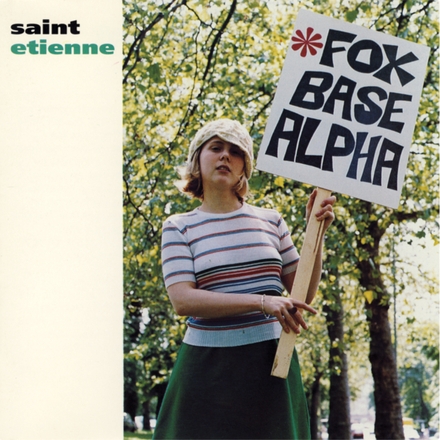 When St Etienne play Fox Base Alpha in its entirety at the NCH in Dublin on September 8, how pure will they be to the original album? "Well, the album was changed slightly for a more modern audience by Richard X about two years ago," says Cracknell. "He didn't change it drastically; he updated it basically in a really good way. We loved everything he did so we'll probably use some of the elements he brought in. We did do live shows of the album about two years ago and I was really happy with the way it worked. We're always updating things when we take them out live."
And will St Etienne do an encore of greatest hits, well, top 20 hits? "Hahahaha. Top 41 hits," laughs Stanley. "Yeah, we're gonna do some. Some from the period. I don't want to give too much away. We do a couple of Carter USM covers . . . only joking!"
Saint Etienne play the NCH on September 8
Alan Corr