RTÉ presenter Jennifer Maguire has opened up about motherhood saying "it's a huge shift in gear" and revealed her new bundle of joy is "the boss already".
The 33-year-old presenter welcomed a baby girl called Florence Maya into the world with her half-Italian husband Lau Zamparelli last month, and admitted that they were both always fond of the name.
Speaking to RTÉ TEN about her daughter's name, Maguire said:  "We got engaged over there [Italy]. It was a name we always liked and we were both always fans of the old-school names. It's Italian obviously, without being too Italian."
When asked how she is adjusting to motherhood, she added: "It's a huge shift in gear, but a good shift. It's magical! We just spend the day gawking at her. We can't really believe that she's here. 
"She's taken over - her stuff is all over the house. She's the boss already"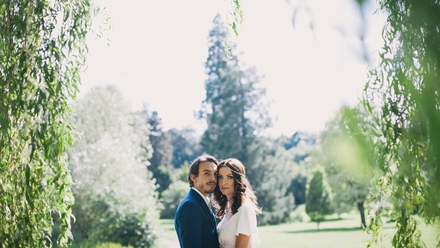 Jennifer and Lau's wedding in Castle Leslie, Co Monaghan in July, 2014
Jennifer may be on maternity leave, but you can still catch her on the TV every Thursday in RTÉ2's The Unemployables, which she co-hosts with fashion guru Darren Kennedy.
Each week the presenters take two unemployed young people under their wings and over a period of time make them employable.
"For Darren and I it wasn't a case of 'take a look at us and do what we did and you'll be amazing'. It wasn't like that at all. We tried to build up their confidence and be their friend, while trying to give them a kick up the ar*e," she says.
Jennifer added: "I suppose what Darren and I have in common is we have good work ethic, so hopefully we instil a little bit of that into them, in the nicest way possible, without scaring them off."
This week Darren and Jennifer take 19-year-old Kelsey and 22-year-old Rachael under their wings and help them to find jobs.
The Unemployables, Thursdays, RTÉ2, 9.00pm