In his new spy thriller The Lost and the Blind, Declan Burke explores murky wartime history as his hero, Dublin-based journalist Tom Noone, is hired to ghost-write a memoir. Harry Guerin finds out more.
Harry Guerin: Nazi submarines off the coast of Donegal – how and when did this idea come up on your own sonar?
Declan Burke: I'm from Sligo originally but I spend quite a bit of time in Donegal these days, up around Lough Swilly, and I've heard a few stories about German submarines operating off Donegal during World War II. Naturally, once I heard those stories I was thinking straight away about how I might work them into a novel. In the past I've written private detective stories and comedy crime capers, but I've always wanted to write a spy novel, albeit one in which the hero is a normal person who finds himself plunged into the murky world of spooks and triple-crosses and so forth – William Goldman's Marathon Man is one of my favourite thrillers. So I thought it might be fun to try to bring those elements together, and The Lost and the Blind is the result.
The modern part of the story takes place during the last days of the Celtic Tiger. Did you have a lot of anger that you wanted to get down on paper?
Not really, to be honest. There was a lot of anger about the mismanagement and corruption of this country in Absolute Zero Cool, which came out in 2011, and Slaughter's Hound, which was 2012, but polemic doesn't necessarily make for good storytelling. At this stage, like most people, I'm mostly inured to the stupidity of it all. I suppose the setting of the last days of the Celtic Tiger was a bit of a cynical one for me – here's all these characters running around trying to preserve the country's sovereign status, etcetera, when most readers will already know an almighty cock-up was made.
So which do you believe in more – conspiracies or cock-ups?
I'd like to say cock-ups, because I'd love to believe that the people in charge – politicians and financial mandarins, particularly – are stupendously stupid, but I'm pretty sure it's conspiracies conceived by people who are nowhere as clever as they think they are.
Which were harder to write – the flashbacks or the twists in the present day?
Both were pretty tough for me to write. I don't find writing easy, regardless of whether it's about the past or the present. That said, I suppose it was a wee bit harder writing about the past, because it took a bit of extra work to make sure I was getting the little details right. Or mostly right, I hope. I mean, what would a German submariner be wearing while launching a rubber dinghy during a storm in neutral waters at 2am in the morning? Where does one get that kind of information?
Doing your research, what was the most interesting thing you discovered?
I'm not sure I should answer that question, because doing so will imply that I'm diligent when it comes to doing research. Or that I do any research at all. My usual way of doing things is write the story the way I need it to be, and then go back afterwards and check out any bits that might be historically inaccurate, and then try to work out a way to make the inevitable historical inaccuracies plausible. It's probably more time-consuming than doing the actual research in the first place, but it's considerably less boring.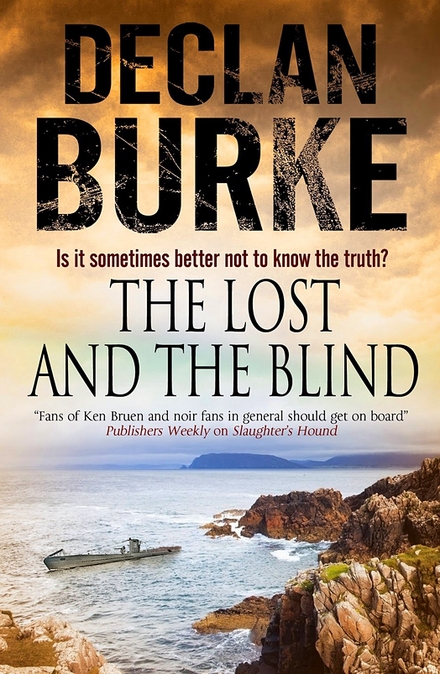 Did you know when you began exactly how the story was going to end?
No, I didn't even know how Chapter One was going to end. I tend to start with a person in a particular place – it's always the setting that sets me off first – and then start inventing reasons for them to be there, and hoops for them to jump through. Once I get to about 60,000 words I start killing people off, until such point as there's only one, sometimes two, people left standing. That's usually The End.
On the non-fiction side of things, you edited the book Down These Green Streets about Irish crime writing. Why do you think it took so long to get going as a genre in its own right? Was it something to do with confidence, a willingness for more authors to believe Ireland could be just as good a setting for these kinds of stories or something else?
I do think it's true that, to a large extent, Ireland wasn't a plausible setting for crime fiction until the Celtic Tiger took off – the crime novel tends to thrive in the anonymity of the urban setting, and back then even our cities weren't big enough or anonymous enough to work convincingly as a setting. It's also true that Irish writers, for the most part, weren't all that interested in genre fiction until Maeve Binchy came along – maybe Irish writers were a little too worried about living in the shadow of Joyce and Beckett and so forth. And crime fiction from Northern Ireland has played a huge part in the rise of Irish crime fiction, and most of the Northern Irish writers will tell you that there wasn't much appetite for fictional crimes and murders while the Troubles were ongoing. I think all those factors have played a part.
Like your hero, Tom Noone, you're a freelancer – of books and cinema. One of your regular gigs is reviewing crime novels for the Irish Times. You get through a right haul of books for every column – what's your advice for people like myself, who would like to read more but find that their speed doesn't match their good intentions?
Crikey – read shorter books?! I really don't know – I guess if a book is a good one, you'll find excuses to read it, and if it's not, you'll find reasons to put it down.
What films and books are you most looking forward to for the rest of 2015?
There's a couple of Irish crime novels I'm looking forward to – John Connolly's A Song of Shadows, Stuart Neville's Those We Left Behind, and Jane Casey's Hide and Seek. I'm also looking forward to Adam Sisman's biography of John le Carré, and John Banville's The Blue Guitar. And I've been looking forward to Jon Steele's The Way of All Sorrows, the third in his Angelus trilogy, since I finished the second one about two years ago. Movie-wise, Bridge of Spies should be a cracker – a spy thriller directed by Spielberg from a script by the Coen brothers. And of course, there's Spectre to look forward to – it's heresy, I know, but I believe Daniel Craig is the finest Bond of the lot, bar none.
And where's next for Tom Noone?
I'm really not sure. When I left him he was headed for a well-deserved rest on a beach in Cyprus, and the last I heard was a rumour that a prominent Irish businessman's son had died in mysterious circumstances in a Cypriot nightclub, and that the Russian mafia may or may not have had a hand in it. We'll see if any further rumours filter through on the grapevine over the next few months…
The Lost and the Blind is published by Severn House.