Tough Mudder is back in July for the second year running and to celebrate we have a two free entry tickets up for grabs!
Tough Mudder, 'The Toughest Event on the Planet' is back this July 11 and 12 with all new obstacles set to thrill the thousands expected at the Loughcrew Adventure Centre. Tough Mudder is a team-oriented 10-12 mile (18-20 km) obstacle course designed to test physical strength and mental grit.
If you think you're tough enough for the challenge, we have two entry placements up for grabs. To enter simply answer the question below and send your answer marked "Tough Mudder" to tencompetitions@rte.ie
Who is the Irish Tough Mudder Fitness Expert for 2015?
A) Pat Divilly of Pat Divilly Fitness
B) Tom Divilly of Tom Divilly Fitness
c) James Divilly of James Divilly Fitness
With the most innovative courses and inspiring over 5,000 people to enter in its first year to visit last year Tough Mudder promises to haunt anyone who has skipped their training. If you think you're up for the challenge you can sign up here.
If you can't do it alone, Tough Mudder Fitness Expert Pat Divilly is reaching out to people to join his team.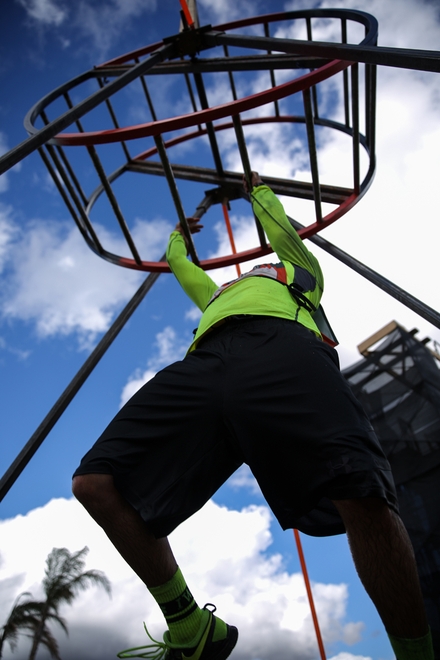 "The biggest reason people don't bite the bullet and take on the Tough Mudder challenge is because they have a lack of belief in their ability. Last year, I wanted to bring 400 people to the first Tough Mudder ever to take place in Ireland. I told myself it would be easy to recruit this huge number of people and looking back it was, because I believed it was possible. In the end we brought 533 people to Tough Mudder Ireland, the largest ever team to participate in any Tough Mudder event. 533 people took off over the start line and 533 made it to the finish line with their heads held high.
"This year, I am hoping to break that record and so I am inviting people to join my Tough Mudder team this July 11th and 12th all in aid of the charity Console.
"Console is the perfect pairing for Tough Mudder. Tough Mudder is not an individual race, it is a team race and I firmly believe that team related fitness has a positive impact on mental health.
"Tough Mudder illustrates a group of people who are hear to listen, to show that we can unite together to prove that there is light at the end of every tunnel and we are stronger than we think we are" – Pat Divilly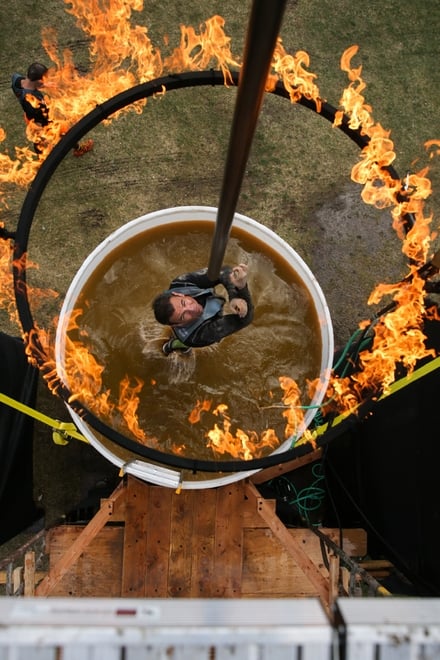 If you are thinking of joining the team for Tough Mudder this July, here are some key tips to thin k about in the lead up to what is 'probably the toughest event on the planet':
Top Tips:
Realise the potential of your body, take some time out and look back on all your body has taken you through to date. That alone shows you just how strong you really are.
Start with short Runs/Workouts and build the difficulty up gradually. Tough Mudder is in July so there is no need to push yourself too hard straight away. The race is all about endurance.
5km is the longest consistent run/jog you will need to do in your training. Preferably on soft ground so it matches the terrain of the course, along with the reduced injury risk involved in comparison to road running. Tough Mudder has lots of different obstacles throughout the course, all new for 2015, so the longest distance you will run consistently on the day is 1.5km. If you can run 5km by the time Tough Mudder comes around you will smash it.
Join a fitness class to help build up some strength for the obstacles or follow the home workouts I will be posting on social media in the build up. There will also be training sessions organised all around the country so keep your eyes open on our Facebook page for updates. If you are already a gym goer then you are probably ready to rock already so just keep up the good work. Tough Mudder isn't about the time you finish it in. It's about making it to the finish line with your teammates.
Watch your daily food intake, start to eat real food, single ingredient foods are the easiest. They have no label so you get exactly what you see. Increase your greens intake and drink 2-3 litres of water a day. Be conscious of the amounts of carbs you consume daily and where these carbs are coming from.
Tell people what you are doing, why you are doing it and who you are doing it for. The most empowering and motivating thing you can do is tell people your intent, because that will drive you to show them you did it. Also if they see that it's for an amazing cause then you might just recruit some more friends and family to join you on this journey.
To keep up to date with Tough Mudder here and join the conversation, follow Tough Mudder on Facebook at facebook.com/toughmudderireland, on Twitter @ToughMudder, and on Instagram @Tough_Mudder.
Standard competition terms and conditions apply. A copy of which is viewable here. Closing date Friday, March 27 at 2pm.