Saturday Night with Miriam comes to an end (9.40pm, RTÉ One), while Peter Capaldi makes his debut as Doctor Who (7.50pm, BBC One) and Tumble continues as the celebs look for a perfect ten (6.30pm, BBC One).
Saturday Night with Miriam, 9.40pm, RTÉ One
Miriam O'Callaghan goes out with a splash in tonight's season finale when she takes the ice bucket challenge with Oliver Callan - but only if they raise €4,000 in support of Motor Neuron Disease. Brendan Gleeson talks about his new film, The Grand Seduction, singer and actress Angeline Ball also guests, while Tomi Reichental and Alexandra Senfft tell their story ahead of their up-coming Holocaust documentary. The Irish Women's Rugby Team and singer Nadine Coyle will also feature in a packed programme.
Doctor Who, 7.50pm, BBC One
Peter Capaldi makes his debut as the new Doctor as the latest season of the massive BBC sci-fi series kicks off in front of a global audience. When the Doctor arrives in Victorian London, he finds a dinosaur rampant in the Thames and a spate of deadly spontaneous combustions. Who is the new Doctor and will Clara's friendship survive as they embark on a terrifying mission into the heart of an alien conspiracy? The Doctor has changed. It's time you knew him.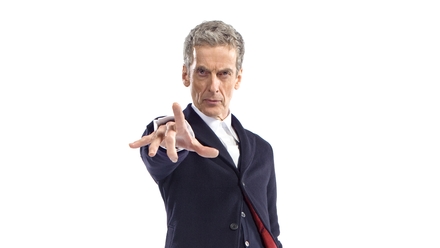 Tumble, 6.30, BBC One
The remaining celebrities and their pro partners will show off their gymnastic skills on the trampoline or wow viewers with rhythmic gymnastic performances the like of which you've never seen before. Judges Nadia, Seb, Craig and Louis will critique them on their performances and score them out of a maximum of 10. The two celebrities with the lowest judges' scores will face The Vault. Head judge, Nadia Comăneci, will send one celebrity through to next week's show and the other will be eliminated.