Cork DJ and promoter Stevie G has released his debut single, a double A-side entitled Deep Down South and Not About That featuring the sweet and sultry vocals of Christiana Underwood.
It's the first release on his new Soul Jamz label and both tracks were co-produced by Ian Ring, while Cork musician Walshy contributed bass, guitar and keyboards to Not About That.
Stevie G has been a champion of soul and hip hop in Ireland for 20 years and his Black on Red show on Cork's RedFM is now over 12 years old.
His long-term residencies in Cork clubs Sir Henrys, the Pavilion, and Jam at the Savoy have seen him DJ with the likes of De La Soul, funk, soul and jazz icon Roy Ayers, Destiny's Child and Kanye West.
Stevie and Christiana launch the double A-side and the Soul Jamz label at the Sextant in Cork on August 17 and play Earthship at Body&Soul at the Electric Picnic on August 31.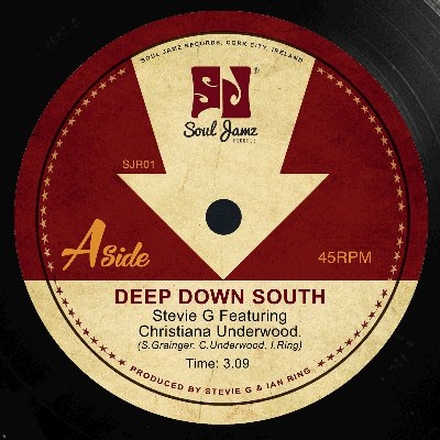 "I wanted the label artwork to reflect my love of classic labels like Stax and Motown."
Christiana is a Cork-based Chicago born singer who is also a big part of Stevie's Deep South Soul Sound System. They recently did their first gig at Body and Soul Festival at the Midnight Circus.
After working with Cork outfit Fish Go Deep in the 90s, the veteran DJ had put production work on the back burner when radio work took off.
"When the radio stuff took off, I did drop the ball on making records but it was always something I wanted to get into it again." Stevie told RTÉ Ten.
Taking a lead from his early love of A Tribe Called Quest and De La Soul, Deep Down South has a real Daisy Age hip hop feel about it. "That's exactly what I wanted. I've always been influenced by that era."
With a title like Deep Down South, he certainly seems to be staking a claim to Cork as Ireland's party capital. "Well it's more of a Saturday night vibe," Stevie says.
"It could be anywhere in the world and not Cork but there is a southern vibe like soul in America and I wanted the label artwork to reflect my love of classic labels like Stax and Motown and Atlantic too."
Deep Down South and Not About That is out now on Soul Jamz.