Open castings are being held in Galway today for a new Irish drama about three Irish brothers who become involved in a bloody feud with each other and a tycoon during the Alaskan gold rush of the 1890s.
Klondike, a tour-part TV drama tells the story of Tom, Séamus and Pádraig Connolly who strike out for Alaska when they hear about the discovery of gold.
Owen O'Donnell of Single-handed, Seán T Ó Meallaigh and Dara Devaney Deveny will play the Connolly Brothers and Steve Wall will play Mountie Sam Steele. Native American actors will also be flying in for the shoot from the US.
Production company Abú Media say that some of the initial inspiration for the new drama came from the book The Hard Road to the Klondike, which tells the story of Micheál MacGowan who was born into desperate poverty in the Donegal Gaeltacht but who went on to strike it rich in the Klondike.
Casting is being held today (August 5) and tomorrow (August 6) in the Harbour Hotel in Galway and director Dathaí Keane says that extras are mainly required but a few speaking roles have yet to be cast.
Keane says he is looking for people, "Who are surprising and heartbreaking . . . beautiful in a terrifying way. An unromantic vision, a combination of force and vulnerability. Men and women who work at hard, uncelebrated jobs, people whose lives are often ignored or overlooked."
Klondilke was written by Marcus Fleming (The Clinic, Jack Taylor) and filming takes place in Galway from August 18 to the end of September.
The production team are currently putting the finishing touches to the Gold Rush town in Oughterard. Klondike will be broadcast on TG4 next year.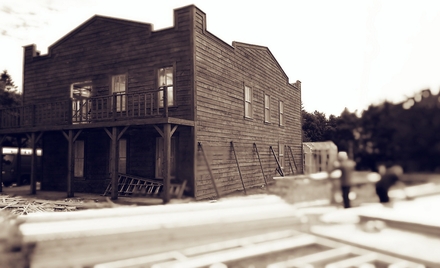 The Klondike town under construction in Oughterard