Quads on ITV follows first-time parents Sharon and Julian Turner through their first year of looking after premature quadruplets. Welcome to Rio continues on BBC Two, and new series of True Blood and The Vampire Diaries begin on TG4.
Quads - Our First Year
11.05pm, ITV
Quads follows first-time parents Sharon and Julian Turner and their premature quadruplets. They spent tens of thousands of pounds on three failed rounds of IVF, but they persevered and went for a fourth round. Six months later, four premature babies arrived by emergency Caesarean. Two pairs of identical twins: two boys and two girls - James, Joshua, Lauren and Emily. Quadruplets born at extraordinary odds of seventy million to one. Covering every aspect of their first year, Quads is a moving and humorous look at the beginning of four tiny lives that started against all odds. The one-off film is preceded at 9.00pm by another stand-alone documentary, The Secret Lives of Babies. The film shows how the first two years of our lives are the most critical.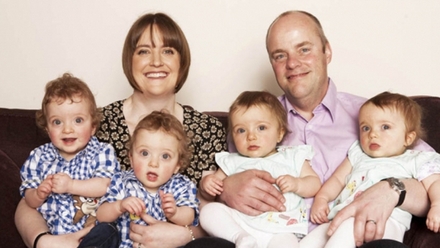 True Blood
11.50pm, TG4
The sixth season of the offbeat vampire drama begins. Truman Burrell, the Louisiana Governor, calls a press conference to institute a state-wide vampire curfew, forcing vampires to stay indoors or underground after sundown. He urges humans to buy guns and as many wooden bullets as they can: "This is still America - you have the right to defend yourselves and the people you love!" Then a protester hurls a balloon filled with blood at him... True Blood is followed at the spooky hour of 12.50am by a new series of The Vampire Diaries.
Welcome to Rio
9.00pm, BBC Two
The second episode of this three-part series takes viewers into the drug trafficking gang-controlled favelas, which are under attack from the government special forces' pacification plans in advance of the World Cup and Olympics. Carlos runs the local Residents' Association. He's a one-time drug trafficker who, when he found out his wife Adrianna was pregnant with twins, decided to quit. Now Carlos is campaigning against the government's incursions, especially if they come in with tanks and helicopters during his children's school run. Meanwhile, Breguete has reached the finals of a dance competition. If he wins, the prize money would be enough to build his own favela house so that he could finally move in with his girlfriend and two young children. Government incursions are becoming more and more frequent and violent, with demonstrations against the World Cup and Olympics breaking out across the city.