RTÉ Ten has learned that Kim Kardashian and Kanye West paid a visit to Castle Oliver in Co. Limerick but are now thought to be on the move to Kerry.
The celeb super-couple flew into Cork airport on a Lear Jet on Sunday after celebrating their wedding with a week of extravagant celebrations in Paris and Florence.
Aine Fitzgerald of the Limerick Leader confirmed to RTÉ Ten that a source at the airport revealed that the most-talked-about couple in the world had their passports checked on board their private jet at about 4pm on Sunday, and were then whisked away via several blacked-out Mercedes vans to their honeymoon destination.
The entourage of cars was then spotted at around 1:30am on Monday morning travelling through the village of Ardpatrick, Co Limerick, around four miles from the historic and romantic Castle Oliver, where it was confirmed to Aine that the couple are enjoying their first few days of married life together.
Media descended on the gates of the castle hoping to get a glimpse of Kimye, but as of yet, no pictures have emerged.
Aine has also confirmed to RTÉ Ten that her sources at Castle Oliver have said the couple were not alone, they arrived with an entourage which is thought to include their personal trainer, make-up artists and stylist.
Claims suggesting that staff at the castle have been given five days' paid leave at short notice are yet to be confirmed.
Latest reports are that Kimye are on the move to Kerry - have you spotted them? Let us know on Twitter @RTE_TEN
@TaraghLG @Limerick_Leader @RTE_TEN Confirmed 100% that they did visit but no confirmation that they stayed. The likelihood is they did.

— Áine Fitzgerald (@AineFitzgerald2) May 27, 2014
#kimye latest...Visited Castle Oliver but as @Limerick_Leader's @AineFitzgerald2 told @RTE_TEN's @TaraghLG Media have decamped to Kerry

— Taragh LoughreyGrant (@TaraghLG) May 27, 2014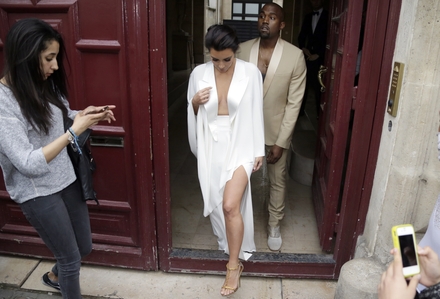 The couple prior to their wedding last Saturday
Jaysus, look at whos talking a stroll around Castlemartyr, outside @patshorttsbar pic.twitter.com/HxJHfo7kxz

— Vic Barry (@victorbarry) May 26, 2014