Bruce Springsteen and RATM's Tom Morello talk about High Hopes on TG4; the wonderfully weird The Squid and The Whale is also on TG4; and aha! Alan Partridge is a specialised chosen topic on Celebrity Mastermind on BBC One.
Bruce Springsteen - High Hopes, TG4, 10.50pm
Bruce Springsteen's 18th studio album High Hopes scorched straight to No 1 in January and to mark its release, Bruce and new collaborator, guitarist Tom Morello of Rage Against The Machine, made Bruce Springsteen: High Hopes with Grammy and Emmy winning film-maker Thom Zimny. The film combines rare behind-the-scenes studio and rehearsal segments, exclusive tour footage, and interviews with Springsteen and Morello to chart the origins and evolution of the album.
The Squid and The Whale, TG4, 11.25pm
Noah Baumbach's autobiographical black comedy from 2005 about a dysfunctional New York family is seen through the eyes of their young sons, a brilliant Owen Kline (son of Kevin Kline and Phoebe Cates) as the anguished innocent and a hugely impressive Jesse Eisenberg as his conflicted and angry older brother. Laura Linney and Jeff Daniels are superbly obnoxious and deluded as the warring couple. Strange and very funny indeed.
The Squid and The Whale
Celebrity Mastermind, BBC One, 4.35pm
King of Chatmandu Alan Partridge is a specialised chosen topic on this celeb episode of TV's scariest quiz show. In the hot chair are TV presenter Gail Porter, Red Dwarf star Danny John-Jules, food writer Prue Leith and BBC Breakfast's Mike Bushell (me neither). Twinkly Torquemada John Humphrys also asks tough questions about number one singles, the choreographer Bob Fosse, and, yummy, wartime food.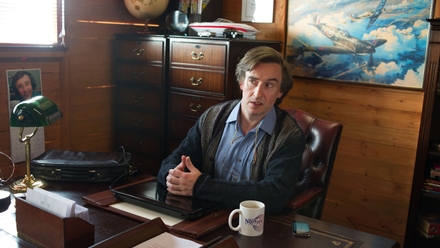 Aha! Alan is a specialised chosen topic on Celebrity Mastermind
Alan Corr