Austria has won the Eurovision Song Contest.
22.38 It was a Twittertastic night for the Eurovision
Conchita Wurst of #Austria also won the #twitter contest! We had more than 4,5 million tweets tonight! pic.twitter.com/h2g5lFx5eK

— Eurovision (@Eurovision) May 10, 2014
22.23 Tonight's Eurovision song Contest was won by Austria's Conchita Wurst with Rise Like a Phoenix.
23.18 Nice touch by the Austrian jury.
23.16 Stop rapping
23.15 Nicky Byrne presenting again and our top points go to the UK, Netherlands and Austria
23.12 Very close between Austria and Netherlands
23.08 Conchita is crying and she hasn't even won yet!
23.07 Alright hurry on now lads. The late news is scheduled for 11.20. Reckon things might run over a bit
23.03 Austria now have a decent lead with 123 closely followed by the Netherlands
22.56 Looks like Conchita might be gaining a bit of a lead here
22.56 There is always one and this year it's France. Move on
22.52 The Russian jury are not getting a great reaction in the house
22.52 Bit surprising that Conchita is not faring better
22.50 It's a bit all over the place with voting at the moment
22.47 Get in there the Netherlands
22.46 Votes this time for Austria and Netherlands
22.44 Don't hog it girl just give the votes. And the first 12 points go to Russia. Not popular in the house
22.43 Finally we are underway with the results
22.42 Overall the interval act wasn't great. Too many different small parts and a lot of time wasting. Riverdance it's not
22.36 And one more time from last year's winner Emmelie de Forest
Ready to go on stage! Wish me luck!!! #OnlyTeardrops #Rainmaker #JoinUs #Eurovision pic.twitter.com/ISCROyT8T4

— Emmelie de Forest (@emmeliedeforest) May 10, 2014
22.35 And we will have no more of that thanks
22.34 It has to be time to get to the business end of the evening surely. We get that she knows stuff but let's move on
22.33 Right I reckon Lise is sticking to the one dress for the night
22.29 Oh Lordy, Lordi
22.28 Johnny Logan obviously rushed from appearing on BBC One's Pointless this evening alongside Dana to the Museum of Eurovision history
22.26 Voting is now closed. Go make a cup of tea!
22.24 So far it has been a very slick presentation, the staging has been amazing! Let's hope the results go smoothly and the returning officers resist the urge to outstay their welcome as some do every year
22.21 It's a little quiet up here on the top floor of the Television Building but I assume there is somebody in the Entertainment Dept tonight to deliver Ireland's vote?!
22.20 And another recap. Voting window is still open so now's the time to cast your vote
22.15 Time for the presenters to give us their douze point tune
22.10 Still loving The Netherlands and Austria
22.04 Right all, time to vote. Click here for all the details.
22.02 I hope Marty is okay and didn't get singed
22.01 Finally an Irish person has featured in the show! Go Graham
22.00 And that's that, UK song was not bad
21.57 The backing singers' outfits make them look like members of the Knight's Watch or maybe I have just been reading too much George R.R. Martin
21.56 Last up in Molly from the UK with Children of the Universe
It's the beautiful Molly from the #UnitedKingdom ready for the biggest gig of her life! #Eurovision #JoinUs pic.twitter.com/aFmwaFB1TF

— Eurovision (@Eurovision) May 10, 2014
21.55 A bit musical theatre or Disney princess from Valentina
21.52 Second last from San Marino and Valentina Monetta
21.51 Mad competition which asks people to judge Austria versus The Netherlands! Chalk and cheese. Really like that song though. Hope it does well
It's Ilse DeLange from The Common Linnets! #Eurovision #TheNetherlands #JoinUs pic.twitter.com/1N3krxTxom

— Eurovision (@Eurovision) May 10, 2014
21.49 A very un-Eurovisiony offering from The Netherlands and The Common Linnets singing Calm After the Storm. Really liking it
21.48 Still no new frock for Lise
21.45 It's catchy if a little annoying, too perky by half
21.43 Home town boy up next with Basim for Denmark
It's time for him to face a home crowd... It's Basim! #Eurovision #JoinUs #Denmark pic.twitter.com/lAIsVrpUwd

— Eurovision (@Eurovision) May 10, 2014
21.43 That's a great tune
21.40 Next up is Firelight for Malta singing Coming Home and there is definitely a whiff of the Mumfords about this one
Some last minute adjustments for #Malta! #Eurovision #JoinUs pic.twitter.com/xYNObkmhar

— Eurovision (@Eurovision) May 10, 2014
21.38 That wasn't bad from András . Hungary have never won the comp.
21.35 We're on the home straight now with Hungary András Kállay-Saunders singing Running
21.35 Multi-talent this lad with the whistling, drumming, oh and singing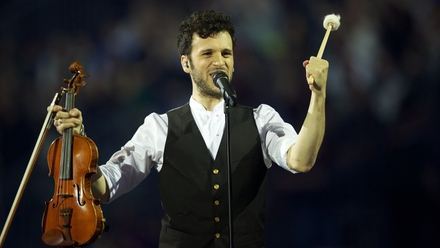 21.33 Act number 20 already with Sebalter representing Switzerland with Hunter of Stars
21.30 Not bad from Ruth - decent tune
21.28 From X Factor to Eurovision for Ruth Lorenzo who is representing Spain
21.27 Not bad from the Finnish boyband!
21.24 Next up is Finland with Something Better from Softengine
21.21 Tinkara Kovač for Slovenia is deffo not playing that flute
A smiley Tinkara from #Slovenia heading for the #Eurovision stage now. #JoinUs pic.twitter.com/5ltamDn9bE

— Eurovision (@Eurovision) May 10, 2014
21.19 A dramatic flourish from Emma to finish up. I would be annoyed too if someone had put me in that outfit
21.16 Who let the poor Italian entrant out in that dress?
21.15 Predictable fare from the Tolmachevy Sisters for Russia
21.12 Sack the hairsylist ladies. These Russian twins are taking sibling closeness to a new level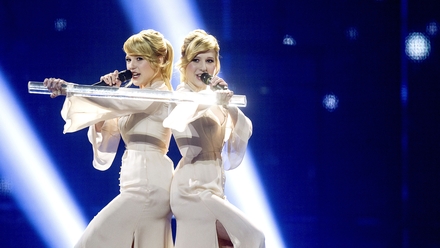 21.10 Sack the stylist lads if indeed there was one. Don't think moustache will be in the final shakeup
21.09 Next up is TWIN TWIN for France
21.07 Another great vocal from Sanna Nielsen for Sweden. Marty reckons she is in with a chance
21.03 12 down already. I thought she might have a change of frock but clearly too much of the budget has gone on the fireworks
20.59 The Germans had a really tough act to follow there. The trio Elaiza with Is it Right are unlikely to be in the top three
20.55 It is hard to see how that can be beaten. Conchita sung that like s/he has already won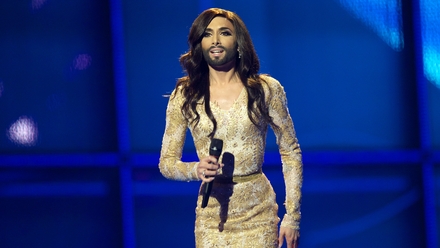 20.53 Conchita Wurst is a huge favourite for Austria. 11/4 favourite with her James Bond theme inspired tune
Here comes Conchita!! #Austria #Eurovision #JoinUs pic.twitter.com/7EspnAWkqG

— Eurovision (@Eurovision) May 10, 2014
20.52 Again I question the abilities of the health and safety officer on site
20.51 Apparently Greece are keen that we rise up
20.48 Very impressed with the Polish act there - good use of time washing clothes? while performing. If only Kasey has baked some soda bread while on stage...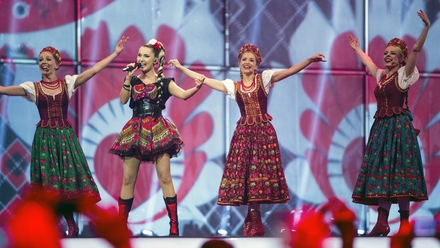 20.43 She just had a Frozen moment there... All together now Let it Go!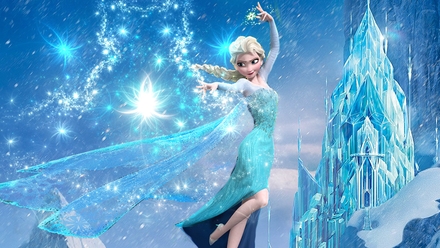 20.42 Marty will probably correct me but is that a first having an ice skater on stage (I mean clearly they are wheels and not blades) but still pretty cool for Montenegro
20.40 He's a bit scary but I liked that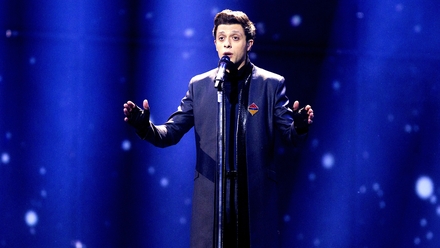 20.37 Aram MP3 is representing Armenia and is being quoted at 10/1 so in with a shout apparently. It seems a little too low-key to me to be in the running
20.36 I reckon it would be a miracle if that won
20.34 Is that a portal to an alternative universe? And if so how do we send OVI there?
20.33 Romania are the sixth act up with Paula Seling & OVI singing Miracle
20.33 Not that I am knocking the power ballad
20.31 Carl Espen from Norway really should have hung out a bit more with the lads from Iceland. They might have given him a bit of a lift
20.28 Nice flash of synchronized dancing there but next!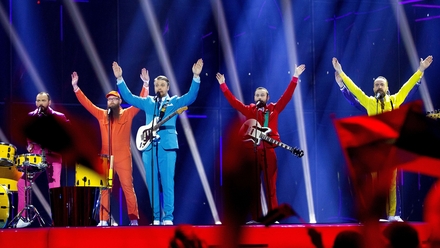 20.26 Pollapönk for Iceland. Looks like they brought along a couple of lads from ZZ Top!
20.24 That's unlikely to worry the favourites I reckon
20.23 Dilara Kazimova for Azerbaijan with Start A Fire. She sounds a little like a brunette Dido to me.
20.18 Belarus and Teo singing Cheesecake. A song about a man wooing with cheesecake! Paddy Powers have put these lads at 100/1 and that's probably about right
20.17 Meh! Can't really seeing that doing any business. Plus someone should really call health and safety
20.14 The set already looks like something out of The Cube and now they have added a wheel. I keep expecting Philip Schofield to pop up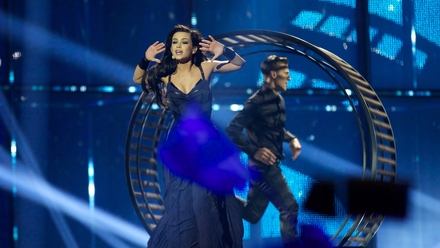 20.13 And they are off with Ukraine
20.10 Prom dress alert!
20.08 So now we have established that all the acts can walk across a stage, but can they sing?
20.06 I hope they didn't blow the entire budget on that lot
20.03 Seems a huge effort to get to the Eurovision, cool opening none the less.
20.00 And here's Marty!
19.59 Well did you win the Lotto? Nope me neither. First Kasey fails to qualify and now this. We just can't catch a break
19.56 Last chance to get that cup of tea or whatever you're having yourself
19.53 Next up is news and then kick-off. Cancel that it is Kamal with the Lotto
19.45 First up tonight will be Ukraine's Mariya Yaremchuk who will kick things off with Tick - Tock and then it is heads down until the UK finish things up in about four hours time with Molly singing Children of the Universe
19.38 Unfortunately there is no Irish interest tonight in the final so you will just have to pick your favourite and shout for them
19.30 Half an hour to go until the start of this year's Eurovision Song Contest. You can watch all the action on RTÉ One from 8pm with commentary by our own Marty Whelan. Alternatively you can follow the action on RTÉ Radio 1 with Shay Byrne and Zbyszek Zalinski