Dig out the pink, fluffy earplugs - it's Eurovision Song Contest time again on RTÉ One and BBC One at 8.00pm; Pop Go The Women looks at the overlooked women of Pop Art on BBC Two at 8.30pm, and Alan Bennett is interviewed on BBC Four at 9.00pm.
The Eurovision Song Contest 2014, RTÉ One, BBC One, 8.00pm
Live from the B&W Hallerne, Copenhagen, artists from 26 countries will take to the stage hoping to be crowned winner in the 59th annual contest. Unfortunately Ireland's entry Heartbeat, sung by Kasey Smith and performed with Can-Linn failed to make the cut. This year's Eurovision is hosted by Pilou Asbæk, best known to viewers as Kasper Juul in Danish political drama series Borgen; musician Nikolaj Koppel, and former X-Factor Denmark host Lise Rønne. Television commentary for RTÉ comes from twinkle-eyed Eurovision veteran Marty Whelan.
Pop Go The Women: The Other Story of Pop Art - A Culture Show Special, BBC Two, 8.30pm
Daily Telegraph art critic Alastair Sooke examines Pop Art and tracks down its now overlooked women artists. Warhol, Lichtenstein and Peter Blake are all household names but Sooke makes a case for the importance of their female counterparts, including Pauline Boty, Marisol, and Rosalyn Drexler, whose work features on the cover of Wildewoman, the new album by Lucius.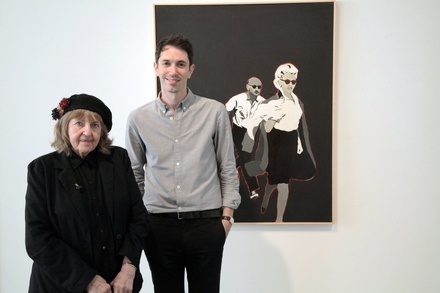 Rosalyn Drexler with Alastair Sooke
Alan Bennett at 80: Bennett Meets Hytner, BBC Four, 9.00pm
To mark Alan Bennett's 80th birthday, BBC Four will be airing a full-length TV interview conducted by his long-time collaborator, Sir Nicholas Hytner - director of the National Theatre in the UK. From his first West End play, Forty Years On, to his recent hit success A Habit Of Art, they discuss the art of writing for the stage, television and the movies and their on-going collaboration, as well as Alan's thoughts on the British education system and what's likely to be his next project.