Prosperous Dramatic Society bucked the trend at this year's RTÉ All-Ireland Drama Festival by bringing a comedy to Athlone, and Boeing Boeing, by Marc Camoletti proved a hit with the adjudicator, Russell Boyce.
In this play, American architect and lothario Bernard has three women on the go – all air hostesses who he manages to juggle by knowing the airline timetables inside out. However, when Boeing introduce a faster plane, his carefully constructed arrangements collapse, leaving his newly arrived friend, Robert and his long suffering maid, Birthe to pick up the pieces.
The adjudicator pointed out that farce is a highly skilled art form that requires skill, technique and energy to stage and he summed up his reaction to the performance with just one word – wow.
Boyce noted that rehearsing this kind of comedy is really hard work, saying that none of the laughs happen by accident – they have to be worked on again and again. He said that director Lurlene Duggan worked her business and her pacing beautifully – admiring the way she drove the play on in acts one and two, although he felt the third act lost momentum.
Commenting on the cast, who he said were in top form, the adjudicator thought that all the air hostesses looked the part and complimented their costuming. He also admired their accents and national stereotyping, as well as their timing and exaggerated gesture patterns. He liked the way Zita McGarry-Kelly played it straight in the role of the almost Germanic French maid and thought that Ferghal Crehan showed a lot of humour and good timing as Bernard.
However, it was Robert Massey's consummate skill that came in for the warmest praise – the adjudicator described him as a master of timing and physicality, saying it was some brilliant acting within the genre.
Tonight, Wexford Drama Group perform the final play of the festival – Other Desert Cities by Jon Robin Baitz and on Saturday, the winner's of this year's competition will be announced at a gala awards ceremony.
By Karina Buckley
For more information on the Drama Festival, click here.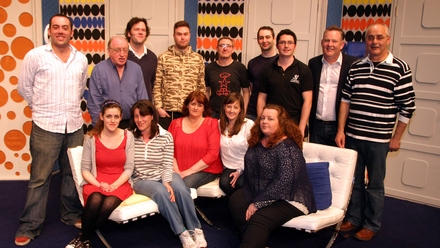 Prosperous Dramatic Society cast and crew