Bradán Players from Leixlip, Co. Kildare came to the RTÉ All-Ireland Drama Festival as joint favourites, and last night, their production of Who's Afraid of Virginia Woolfe? by Edward Albee didn't disappoint.
The taut, emotional drama sees middle-aged couple, Martha and George, trade insults with each other and hurl jibes at their younger guests in a drunken evening of emotional violence that could spell the end of two marriages.
In his post-show comments, the adjudicator, Russell Boyce said that this super play had been superbly done by Bradán Players. For it to work, he noted that a director must identify the big dramatic highlights, then build towards them and come down from them, comparing it to the crescendos and diminuendos in an orchestral score. He went on to say that Jenny Ní Lucais had identified these moments, and that her direction was a very fine piece of orchestration.
Boyce also admired the way the director choreographed her cast of four, moving them around the stage in a way that, for the most part, looked completely natural. He said that her work was so well done, it was hardly noticed and that, he said, was the biggest compliment he could pay her.
The adjudicator commended some concentrated acting from the cast, saying that they kept their focus and reacted to what was going on, even when they themselves weren't directly involved. He really enjoyed Michelle Reade's performance in the role of Honey, saying that she lifted the play every time she came onstage. He thought that Colin Walsh gave a good portrayal of the bland part that is Nick and described George Hogan's turn in the role of George as a fine piece of acting. However, he reserved particular praise for Helena Stout who played Martha and compared her performance to a concerto, saying that she brought enormous variation to the role, and made sense of the most zany part imaginable.
The adjudicator remarked that the Athlone audience was privileged to watch the consummate acting skills of Bradán Players.
Tonight, hot-favourites Prosperous Dramatic Society bring their production of French farce, Boeing Boeing to the RTÉ All-Ireland Drama Festival and hope to shatter the myth that comedy never wins at Athlone.
By Karina Buckley
For more information on the Drama Festival, click here.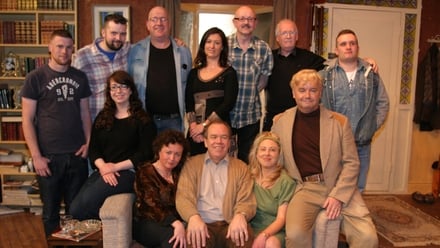 Bradán Players cast and crew