Thurles Drama Group coasted through to the RTÉ All-Ireland Drama Festival with four wins on the qualifying circuit but their production of Arthur Miller's A View From the Bridge may have peaked too soon.
The play is set in 1950s Brooklyn, where proud Italian-American Eddie Carbone is hopelessly devoted to his live-in niece, Catherine. When her head is turned by a new arrival from the old country, Eddie is consumed with jealousy and the scene is set for a tragedy of Greek proportions.
The adjudicator, Russell Boyce pointed out that the play is full of big emotional moments and he felt that director Margaret McCormack handled these very well. He also thought that she worked well from a technical perspective, admiring the way she grouped the actors and moved them around the stage.
Boyce went on to describe this play as Greek tragedy wrapped up in naturalism, and while he felt the director managed the tragic elements of the play terribly well, he thought that some of the naturalism was missing.
The adjudicator found the cast to be very secure in their dialogue, but thought them a little too secure at times – he would have liked to hear more pauses to make the lines sound a little more natural and not quite so prepared. However, he thought the actors' accents were very good in general, and admired Martin Fitzgerald's gravitas in the role of immigrant lawyer Alfieri as well as the freshness and youthfulness of Catríona O'Mahony's Catherine.
Boyce said that David McElgunn managed to turn on the emotion required for the difficult part of Eddie Carbone, and while he thought the actor wasn't always as vocally clear or physically dominant as he could have been, he got the essence of the man.
Having said that this play always presents staging problems, the adjudicator noted that the director and set designer (Anne O'Dwyer) had cleverly used the stage to incorporate all the elements demanded by the script but still leave ample space for the main acting area. He also liked the feel of reality and the period detail in the set, and while he thought that the edges of the acting areas were slightly underlit at times, he found the lighting to be good overall.
Boyce concluded his comments by saying that the cast and director staged a very professional performance of a difficult play, but imagined that it had been better on other occasions.
The festival continues with another American classic tonight, when Bradán Players from Leixlip, Co. Kildare perform Edward Albee's Who's Afraid of Virginia Woolf?
By Karina Buckley
For more information on the Drama Festival, click here.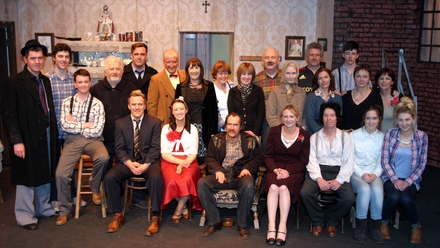 The Thurles Drama Group