RTÉ One looks at how former criminals were saved by art; a new Aussie sitcom on Sky Living; and forget the Romans - history pixie Dr Lucy Worsley finds out what the German Hanoverian kings ever did for Britain on BBC Two - here's our top telly for today.
Outsider, RTÉ One, 10.45pm
Outsider is a journey through the intimate worlds of former criminals Eddie Cahill and Frank "Lucas" Quigley, exploring what made them turn their backs on crime and discover a new world in which art became their saviour. Lucas became an active republican and Eddie became a significant part of one of the most violent gangs in Dublin in the 1980s. After years in crime they were both eventually incarcerated. That is where they met Brian Maguire, who helped trigger total change within them, and unleashed their dormant artistic talent. From that moment, they never stopped painting...
The Moodys, Sky Living, 9.30pm
Take a trip down under with this new sitcom and meet the loveable and dysfunctional Moodys. They might not get along like the Waltons or the Brady Bunch (or even Aussie stalwarts The Sullivans), but they have a lot more fun, with each episode focusing on uniquely Moody occasions over the course of a year, from a wedding anniversary to a surprise 40th birthday party and even a court appearance. We meet the Moodys as Dan returns to Oz with girlfriend Cora - who he stole from his cousin the previous Christmas - after a stint living in London. What a gent.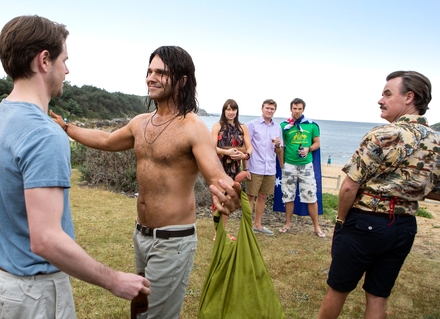 The Moodys
The First Georgians: The German Kings Who Made Britain, BBC4, 9.00pm
2014 marks the 300th anniversary of the Hanoverian succession to the British throne. To mark the occasion, history pixie Dr Lucy Worsley presents a new three-part series revealing the surprising history of Britain in the reigns of George I and George II. In 1714, one of the most risky constitutional experiments in British history occurred: to prevent the crown falling into the hands of a Catholic, Britain shipped in a ready-made royal family from the small German state of Hanover. The Georgian age had begun. In the first episode, Lucy uncovers the story of George I and his feuding family, revealing how this new royal dynasty changed Britain. And to think it was all going so well until that nasty misunderstanding with the Kaiser in 1914...