Fargo arrives as a TV series on Channel 4 and has all the makings of a TV classic, with a great cast, led by Martin Freeman and Billy Bob Thornton. RTÉ Two's Other Voices features John Grant, while Would You Believe? on RTÉ One visits the Cistercian nuns.
Fargo
9.00pm Channel 4
A brand new US drama series, based on the Coen brothers' classic film of the same name. Billy Bob Thornton stars as Lorne Malvo, a rootless, manipulative man who changes the life of small-town insurance salesman Lester Nygaard, played by Martin Freeman. Colin Hanks plays Duluth Police Deputy Gus Grimly, the single dad who must choose between his own personal safety and his duty as a police officer when he comes face to face with a killer. Oliver Platt plays Stavros Milos, the Supermarket King of Minnesota. In the first episode, brow-beaten insurance salesman Nygaard is set on a path of destruction after an encounter with the drifter Malvo.
Other Voices
10.30pm RTÉ Two
This week's programme features Public Service Broadcasting, John Grant (pictured), The Bohicas, Samantha Crain, Wonder Villains and Grim. "There is truly remarkable music in Ireland just now," executive producer Philip King enthuses of the long-running series. "To capture and transmit brilliant new music from this island to the world, to have that music endorsed and mentored by some of the most exciting artists who come to Derry and Dingle is at the heart of what Other Voices is about." The series is presented by Aidan Gillen.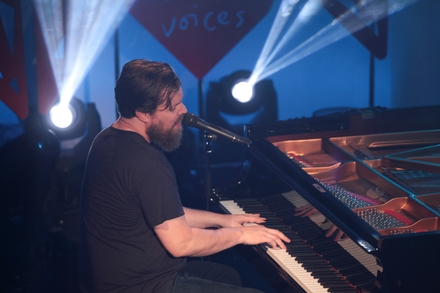 Would You Believe? School of Love
10.35pm RTÉ One
Sample a year behind the scenes in Ireland's only women's Cistercian Monastery. Nestled in the lush valley of the Blackwater, in Co Waterford, the nuns of St Mary's Abbey, Glencairn dedicate themselves to a way of life laid down by St Benedict in the Sixth Century, a life of silence, solitude and prayer. Each day of their monastic life, they rise at 3.30am and gather to sing the Lord's praise and to keep vigil with all who wake during the night in fear, or sadness or pain. "It is in the darkest hour of the night, at 4am, that people wake and worry about their troubles," says Sr Fiachra. "So, that's why I'm on my feet praying for all the people that are suffering, whatever it is that they are suffering, so that they will feel God's presence and comfort in that trauma." The Mother Abbess is pictured in the Monastery's vineyard last September.