Shane Meadows' Stone Roses documentary Made of Stone is on Channel 4, Pop Goes BBC Two gathers together archive footage of some of the acts who've played Beeb 2 over the past 50 years, and the last days of Hitler are dramatised in Downfall on BBC Four.
The Stone Roses: Made of Stone, Channel 4, 10.50pm
The most unlikely reunion in modern pop came to pass two years ago when Manchester godheads The Stone Roses slowly and, no doubt, painfully reunited for a series of concerts, their first in twenty years following their bitter and farcical disintegration in the mid-nineties. Uber fan Shane Meadows (director of This Is England) documents the early beginnings, Madchester euphoria, international breakthrough, and real second coming of a band who fired the imaginations of a generation.
Pop Goes BBC Two, BBC Two, 10.30pm
Beeb Two marks 50 years on air this year and while its older bruv did the more mainstream pop music, the UK's second channel was always the place to find the real sonic exotica. Pop Goes BBC Two offers 50 great moments in music from across the decades, from Joy Division's last performance on Something Else to The Stones Roses power failure mid song on The Late Show. We'll also see John Lennon reciting poetry with Dudley Moore on Not Only But Also, Patti Smith's Old Grey Whistle Test performance of Horses in 1976, and Radiohead doing Paranoid Android in 1997 on Later . . . with Jools.
Will U2's early Old Grey Whistle Test appearance make the cut tonight?
Downfall, BBC Two, 9.00pm
Oliver Hirschbiegel's extraordinary portrait of Hitler's final days is naturally dominated by Bruno Ganz's magnetic and disturbing performance as the monstrous figure who laid Europe to waste 70 years ago. Ganz's is the finest ever on-screen portrayal of Hitler and he captures demonic, crazed and the humane sides of the man as his 1000 Year Reich comes crumbling down around him in the dank crucible of his Berlin bunker. There are superb performances all round from the supporting cast but Corinna Harfouch and Ulrich Matthes as Mrs and Mr Goebbels are utterly chilling in their blind and wretched dedication to Fuhrer and Fatherland.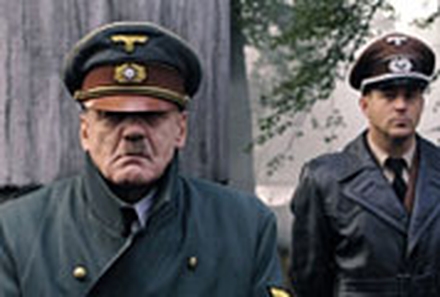 Bruno Ganz delivers the finest ever performance of Hitler on screen
Alan Corr