To celebrate its first birthday Tuesday, RTÉjr invited five children from across Ireland to interview some of RTÉ's best known broadcasters including Bryan Dobson and Miriam O'Callaghan.
Taking over the set of The Late Late Show, each child had the chance to sit in Ryan Tubridy's seat and put their questions to Bryan Dobson, Miriam O'Callaghan, Sinead Kennedy, Blathnaid Ni Chofaigh and All-Ireland winning Dublin Senior footballer Ger Brennan.
The questions ranged from asking Bryan Dobson why he wears braces on his trousers, to asking Miriam O'Callaghan who the most interesting person she's ever interviewed was (Mother Teresa if you were wondering) and asking Sinead Kennedy what she does if she needs to sneeze on live television.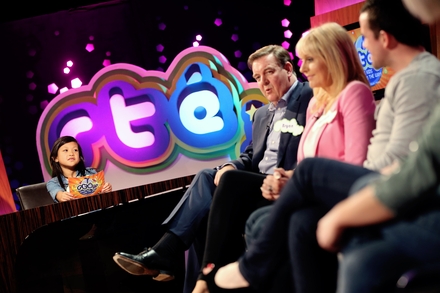 Not generally on the receiving end of questions, Dobson told RTÉ Ten, "It's a turning of the tables, being interviewed. It's much easier to ask the questions, much easier. It's more of a challenge to be asked the questions, but they did have brilliant questions."
Sinead Kennedy arguably had the trickiest questions put to her, "I was so nervous, I'm not used to being the one getting asked the questions and I was like please take it easy on me, and they didn't. I think I got the stickiest questions. 'Have you ever sneezed on telly?' Oh God, that's embarrassing. 'What's your worst habbit?' Oh, that's embarrassing. 'What do you watch on RTÉjr?' Now, I'm not the target audience but I do luckily watch RTÉjr so that was ok, but I got a bit of a roasting, but they were incredible."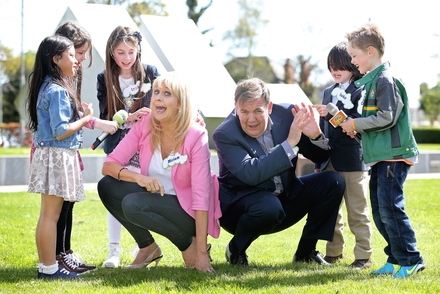 RTÉjr presenter Emma O'Driscoll couldn't get over how confident the children were in front of the cameras and audience, "When they're that young their confidence is phenomenal, and it's not in a cocky way, it's a beautiful confidence and I said to every single one of them, if anyone tries to take that confidence away from you, no matter what they say you hold on to it."
She added that the last year has flown, "Everyone was really excited about today, it's like oh my God, it's a year ago. But in a way it feels like three years ago because so much happened in the year."
Channel controller Sheila de Courcy said of the birthday, "Kids lead the way today and every day on RTÉjr. The event today celebrating RTÉjr's first birthday reaffirms RTÉ's commitment to young Irish children who deserve the same breadth and quality of programming as is offered to adults.
"Over the past year RTÉjr has worked to deliver a varied schedule with content that not only sits with pride alongside RTÉ One and RTÉ Two, but also is delivered across four platforms - TV, radio, online and mobile."
Glen Killane, MD of RTÉ Television said of RTÉjr, "The launch of RTÉjr on multiple platforms last year underlined children's and young people's content as a core public-service priority for RTÉ. Launching a TV service in particular in the midst of a recession was a big commitment from RTÉ and whilst it has been a challenge, financially, to deliver, I believe it has been worth it when you look at what RTÉjr has achieved over the last year and how audiences have responded.
"RTÉ is proud to deliver a service which parents and guardians can trust that's ad-free and to provide our children, the future leaders of this country, with a dedicated service giving them a uniquely Irish experience, where they hear Irish voices and see Irish content."