George Clooney, Matt Damon, John Goodman, Bill Murray and Jean Dujardin hit the red carpet in London last night for the premiere of their new film The Monuments Men.
Although Clooney admitted that there were plenty of pranks on set, the cast believed in the "important story" as Murray said: "It is a great story, it's an important story. Which hasn't been told in 70 years."
The World War II film tells the true story of a group of soldiers who rescued priceless artwork and other valuable items stolen by the Nazis.
Clooney spoke about the on-set antics when he was on the red carpet in Leicester Square: "I've done it a few times now but these guys are fun because they're friends of mine, so I really enjoyed their company."
He added: "We based it [the film] on all those old films that we like, like The Great Escape and films like that because we wanted to have a little humour in it too".
The two-time Oscar winner later said: "It was fun to make and not a bad cast".
Clooney, who also directed the film, joked: "I didn't listen to the director once, and neither did any of the other actors," he joked in front of a huge audience of film fans.
Despite Clooney's humility, Damon was singing his praises: "It's actually much easier to be directed by a friend. When you're partnered with somebody who's a friend you cut out all of the diplomacy which really wastes a lot of time.
"There's a whole way you're supposed to speak to each other on film sets or in theatre, and it's all about protecting people's egos. And when you're working with your friend they just say, 'That sucked!'
"There's a baseline of trust that never comes into question, and you solve the problems a lot quicker."
Goodman said the camaraderie on set had been reignited on the tour: "There's a lot of luggage packing and unpacking, which is always a drag, but it's good to be with the guys again".

Murray spoke about some of the serious elements of the film: "We filmed in this mine where they built the V2 rocket, which landed on London, tried to destroy London, and if it had been successful would have destroyed London.

"And to be there to feel the vibration, just the sense of where we are, this is real here, and we're representing some people that saved the art.

"A lot of art was saved by these men, but the idea that the monster's master plan of destroying all the art, of destroying the other cities and their civilisations didn't take place, it's a blessing."

The Monuments Men opens this Friday February 14, Valentine's Day.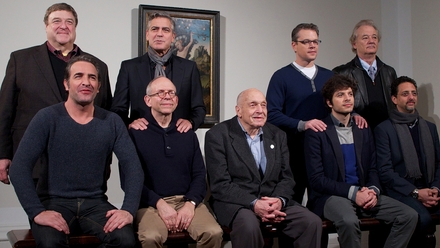 John Goodman, George Clooney, Matt Damon and Bill Murray. (Front Row L-R) French actor Jean Dujardin, US actor Bob Balaban, Co-Chair of the Wallenburg Foundation, Harry Ettlinger, actor Dimitri Leonidas and actor and Clooney's co-writer Grant Heslov.