Rockers, foodies and Scandi Noir fans are all well catered for.
Born To Be Wild: The Golden Age of American Rock, 9.00pm, BBC Four
BBC Four is the place to be for music nuts every Friday night, and tonight sees the start of a chunky new three-parter, taking us from classic songs by fellas in bad need of a shave right up to the times when the men on stage wore more make-up than the women in the crowd. Episode one, Riders on the Storm, opens during the Vietnam era, with the upheaval in American society reflected in the sound of its new artists. And how's this for a line-up of interviewees: Alice Cooper, Tom Petty, John Densmore and Ray Manzarek of The Doors, Creedence Clearwater Revival's Doug Clifford, Martin Balin of Jefferson Airplane, MC5's Wayne Kramer and Steppenwolf's John Kay. The show is followed by Jimi Hendrix at Woodstock at 10pm and next week's second instalment will feature Ted Nugent, Chuck D, Slash, Richie Sambora and Billy Idol talking about stadium rock. Lighters at the ready...
Piers Morgan's Life Stories, 9.00pm ITV
Great British Bake Off boss Mary Berry is the first of Morgan's guests of 2014, with Neil Morrissey, Beverley Callard, Tony Blackburn and Ian Botham all set for the leather chair in future episodes. Berry will discuss becoming one of TV's best known faces in her mid-seventies and her first appearance on the box over 40 years ago - cow udder pie was the recipe. She will also share the pain of the tragic death of her son, William, in a car crash when he was just 19. Berry's perspective on loss and life for those left behind is inspirational.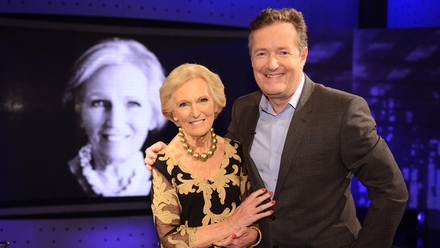 The Girl with the Dragon Tattoo, 9.05pm TG4
Before the Daniel Craig- and Rooney Mara-starring Hollywood adaptation, there was the Swedish – some would say superior – version of Stieg Larsson's bestseller. Michael Nyqvist plays crusading journalist Mikael Blomkvist, with Noomi Rapace playing his unlikely partner, troubled genius hacker Lisabeth Salander. Together they must solve a decades-old mystery in a classy and compelling movie that from performances to look and feel more than does justice to the source material. And talk about show-stealing from Rapace... At over two-and-a-half hours, The Girl with the Dragon Tattoo is a night's viewing, but it's testament to Niels Arden Oplev's skills as a director that it's gripping throughout – whether you've read the book or not.