Generation War comes to RTÉ screens, while November 22, 2013 marks the 50th anniversary of the assassination of President John F Kennedy, the matter of a number of BBC 2 programmes. Meanwhile, I'm A Celebrity... returns on ITV.
Generation War
9.00pm, RTÉ Two
This three-part drama series follows the lives of five young German friends between 1941 and 1945 and was viewed by audiences exceeding 7 million viewers when it was shown on German broadcaster ZDF. Something of a landmark event, the German newspapers have not stinted in their praise. Suddeutsche Zeitung, said the drama provided the "first and last chance … to ask grandparents about their true biographies, their immoral compromises … the missed chances to act – everything which, in masses, leads to catastrophe". Generation War was also praised by a Der Spiegel critic as a "turning point in German television." Generation War features unflinching scenes of violence usually shied away from in German TV depictions of the Second World War. The saga explores the lives of two brothers who sign up to become Wehrmacht soldiers. A young nurse is besotted with one of the young enlisters. The cast also includes a singer who dreams of being the next Marlene Dietrich - she has a Jewish boyfriend. Most of the series is set on the Eastern front.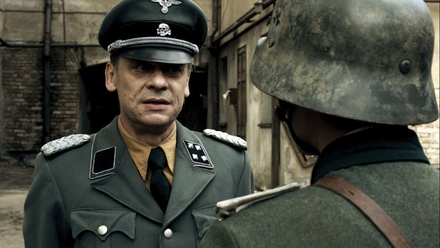 Kennedy Night
Begins 6.00pm, BBC Two
November 22, 2013 marks the 50th anniversary of the assassination of President John F Kennedy. Most Irish people over a certain age know exactly where they were when they heard the news.This evening, BBC Two have a number of programmes which mark the catastrophic event and its prelude, beginning with JFK: The Final Visit to Britain, at 6.00pm. This is followed by Days That Shook The World, a minute-by minute dramatisation of the day that Kennedy was shot. In Coast, at 7.00pm, a photographer who covered the Kennedy motorcade in Dallas recalls that confusing, grief-laden day. Then at 7.05pm, Kennedy Home Movies is, well, just that, with reminiscences from nannies who looked after the young kids.
The picture below shows JFK on his Irish visit earlier that fateful year, commemorated so impressively last June at New Ross, as recorded by RTÉ One.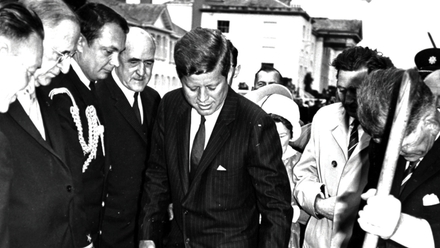 I'm A Celebrity – Get Me Out of Here
9.00pm, ITV
Rebecca Adlington, Steve Davis, Kian Egan, David Emanuel
Joey Essex, Laila Morse, Lucy Pargeter, Alfonso Ribeiro, Amy Willerton and Matthew Wright are this year's contestants, as the world now knows. Joey Essex is the early favourite to win, as we write. Considered the 5/2 favourite by Paddy Power to win the King of the Jungle accolade, the 23-year-old has over 2.1 million followers on Twitter.