Orla Brady is amongst the cast on tonight's Poirot (8.00pm, UTV), while Chicago Fire (8.00pm, Sky Living) sees two of the Firehouse 51 crew experience a major shock – and it's the final episode of Mitchell and Webb's Ambassadors (9.00pm, BBC Two)
Agatha Christie's Poirot, 8.00pm, UTV
Orla Brady is a guest star in the latest from David Suchet as Poirot suffers depression after failing to prevent the murder of a society girl by notorious art thief Marrascaud. His confidence shattered, Poirot returns to work when a lonely chauffeur begs him to find his missing soulmate, the maid of a famous Russian dancer. The investigation takes him to the Swiss Alps, where, against all odds, he stumbles upon a hotel thought to be Marrascaud's hideout.
Ambassadors, 9.00pm , BBC Two
It's part three and goodbye to this amusing show starring David Mitchell and Robert Webb. A party at the embassy marking the Tazbek president's platinum jubilee is disrupted by gunfire and explosions as the army tackles an anti-government uprising, and Davis decides to set out on a mission to meet the rebel leader. Meanwhile, legendary Foreign Office interrogation specialist Mr Jackson arrives to find out if any members of staff have been spying - which is bad news for Neill.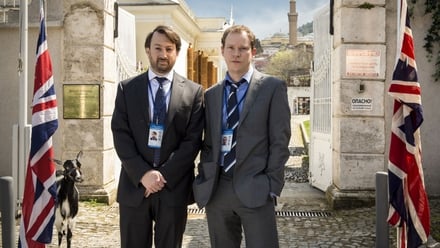 Chicago Fire, 8.00pm, Sky Living
Always worth a watch, this show offers fine ensemble acting mixed with great action scenes. It's another eventful day for Firehouse 51 when a straightforward call-out turns into a shocker for Dawson and Shay, proving 'routine' has no place in a paramedic's vocabulary. Severide's efforts to implicate Hadley in the arson attacks also go awry. Elsewhere, tensions continue to rise between Clarke and the team, and Chief Boden challenges Gail over her cost-cutting measures.