Fran gets angsty on Love/Hate; Toast of London gets a full series; and Karl Pilkington finally escapes the clutches of cackling cartoon cretins Stephen Merchant and Ricky Gervais and gets his very own free global travel pass
Love/Hate, RTÉ One, 9.30pm
As little Warren's first Holy Communion approaches, things seem to be on the up for Nidge as dentist Andrew capitulates and asks to be cut into the deal that he is putting together. But the gang threatens to implode as Falstaffian Fran is getting a tad angsty and Nidge is tapping unheard of resevoirs of loyalty (ha!). Fran is still planking it over his fear that he could go down for the tiger kidnapping and he lashes out looking for someone to blame, resulting in a serious challenge to Nidge's authority. Meanwhile, poor Tommy goes gaga over some lickle puppies.
Toast of London, Channel 4, 10.40pm
From the pen of Fr Ted co-writer and co-written and starring the great Matt Berry, Toast of London gets its first six-part series. Berry plays the eccentric Steven Toast - a middle-aged actor with a chequered past who spends more time dealing with his problems off stage rather than performing on it. In the first episode, things are looking up for Steven. His agent Jane Plough (Doon Mackichan) gives him some exciting news: he's won a "Best Actor" award from trendy Bra'z' Magazine. He is also getting more than a bit of attention from the ladies; celebrity journalist Susan Random (Emma Fryer) and the beautiful, but slightly unhinged, Jemima Gina (Morgana Robinson). Meanwhile Toast's flatmate Ed Howzer-Black has invited his old friend Kikini Bamalam, the daughter of the Nigerian ambassador, to stay. Kikini is recovering from her latest botched cosmetic surgery and now closely resembles a very famous showbiz personality.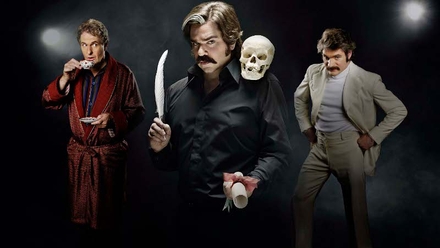 Matt Berry is Toast
Karl Pilkington: The Moaning of Life, Sky1, 9.00pm
After being sent off on a wild goose chase around the globe by cackling cartoons cretins Stephen Merchant and Ricky Gervais, hangdog Karl embarks on his own journey of self-discovery, setting off around the world to find out how different cultures deal with life's big questions. Like marriage, the focus of this week's series starter. Karl has been with Suzanne for 20 years, but has never seen the need to get married. With an open mind, well, one that's at least a little ajar, he heads out to see if he's in the wrong.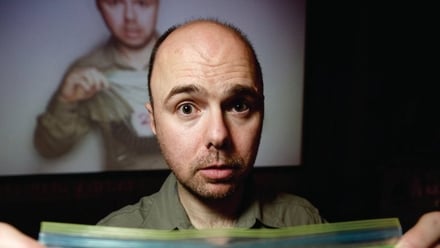 Karl gets his very own global travel pass
Alan Corr