The Mario Rosenstock Show (9.30pm RTÉ Two) is essential viewing, with its dark, madcap brilliance, while The Secret Millionaire at 9.35pm on RTÉ One features the particularly generous Warren Logan, CEO of Hairspray Ireland. In A Very British Murder at 9.00pm on BBC Four, Lucy Worsley examines the peculiarly British fascination with murder in a new three-part series.
The Mario Rosenstock Show, 9.30pm RTÉ Two
The first programme in the new series augured very well indeed, with a brilliant take on a particularly assertive Pat Kenny atempting to show who was boss with three women in his Newstalk studio. There was a completely daft impression of Francis Brennan as he arrives unbeknownst in a drug production den to do one of his bossy makeovers. The penny fails to drop as he suggested how the boys might change their way of doing things. In the end he accidentally snorts some suspicious white stuff in the loo. Suddenly, he decides that the rather mystified drug lads should forgo the makeover for a few hours, and have a party instead. Mario can be hit and miss, his President Michael D Higgins and Joan Burton sketches just don't seem to do the business (not in my house anyway.) But most everything else he does turns to comic gold. The Marty Morrissey/Davy Fitzgerald routine was priceless.
The Secret Millionaire, 9.35pm RTÉ One
CEO founder of Hairspray Ireland Warren Logan (pictured) is in Cork city and Dungarvan in search of vulnerable young people he hopes he can help. (Hairspray Ireland has six Dublin shops and deals in hair extensions, wigs, eyelashes, nails and beauty products and there are plans for expansion abroad very soon.) Warren meets a family trying to come to terms with the suicide of their teenage daughter who was being bullied. He learns how they are channelling their grief into helping others. Interestingly, Warren donates to his designated charity the most money any millionaire has handed over in the series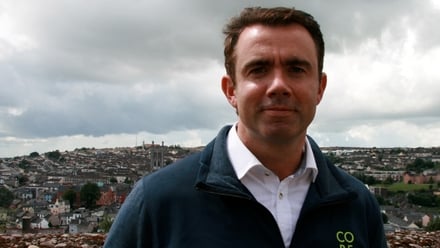 A Very British Murder, 9.00pm BBC Four
Lucy Worsley investigates the perennial fascination with murder most foul in this three-part series. In the first programme, she looks at real-life crime from the first half of the 19th century, specifically the Ratcliffe Highway Murders, Mariah Marten and the Red Barn, and the Bermondsey Horror. She looks at the writings of Thomas De Quincey who wrote about the guilty pleasure the British in particular, it seems get from stories of murder. (A nation of 'Murder Fanciers' was how he dubbed his fellow Brits.) As each gripping story of murder is told, Lucy explains how each of these crimes was transformed and mythologised into a variety of popular entertainments. And to recreate these moments, Lucy sings the ballads, acts out the melodramas and holds the strings during the puppet shows.