When German Zeppelins rained death down on Londoners during WW1; Haughey continues his reign of error in GUBU; and a look into "Europe's dirty drugs secret". Here's Ten's top telly for tonight, Monday August 26.
Attack of The Zeppelins, Channel 4, 8.00pm
The Blitz is a well documented period of World War 2 but a generation before fiery death fell on the city, London endured another terror bombing campaign the First World War. For 18 months the carnage was delivered by a machine straight from the pages of science fiction. The Zeppelin, the biggest flying machine ever to have existed, delivered a deadly payload straight to the heart of a nation and, for a time, there was nothing the British could do to stop them. In this documentary, engineer Dr Hugh Hunt (Dambusters: Building the Bouncing Bomb, Digging the Great Escape and Escape from Colditz) investigates the technical challenges that each side had to overcome in their war in the air.
GUBU, TV3, 10.00pm
The second and final part of this documentary looking back on the extraordinary political events in Ireland of 30 years ago tells the most bizarre incident of 1982 - the murder of nurse Bride Gargan and arrest of Malcolm McArthur, her killer. In no way implicated in the affair, Haughey was seriously embarrassed when McArthur was arrested at the home of Patrick Connolly, the Attorney General.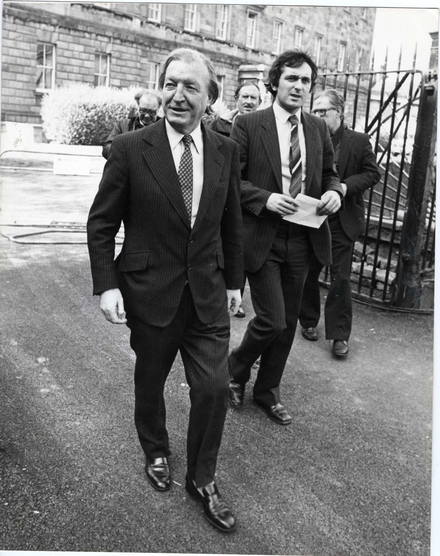 Haughey with his old mate aka the "most skilful, most devious, most cunning"
Europe's Dirty Drugs Secret: Stacey Dooley Investigates, BBC Three, 9.00pm
Dooley reveals how South American drug cartels have been using Ukraine as a transit hub to smuggle cocaine into Western Europe. To uncover why shipments are taking this 2,000 mile detour, she visits the Port of Odessa on Ukraine's Black Sea Coast where officials show her the tricks traffickers use to hide drugs within cargos – inside anything from industrial furnaces to hollowed pineapples. She also hears from a port worker and a former drug trafficker who tells her that Ukrainian officials are notoriously open to bribes to help get cargos through.